It's no secret that finding a good web hosting provider is essential for any website. But with so many web hosting companies to choose from, it can be challenging to know which one is the best.
Hostinger is a web hosting provider that small businesses and entrepreneurs should consider. It's one of the most affordable platforms on the market, and it offers a wide range of features that can be useful for growing businesses.
In this article, we'll take a comprehensive look at this web hosting provider. Its pricing and features, pros and cons, FAQs, and our verdict.
Hostinger Review – Web Hosting at Glance
Global Performance Grade
A+
Uptime Guarantee
✔
Free SSL
✔
Hosting Types
Shared, Cloud, WordPress, VPS, Minecraft
Basic Plan Features
1 Website, 30 GB SSD Storage, 1 Email acc.
Starting Price
$ 1.99
Try Hostinger
What is Hostinger?
Hostinger is committed to providing the best web hosting services to its clients. From building a website to managing and running it, you can do it all smoothly and quickly with Hostinger.
This web hosting service platform has been around for quite some time now. You can trace its first activity back to November 2004, under Hosting Media. In 2007, it started offering a free web hosting service under 000webhost.com.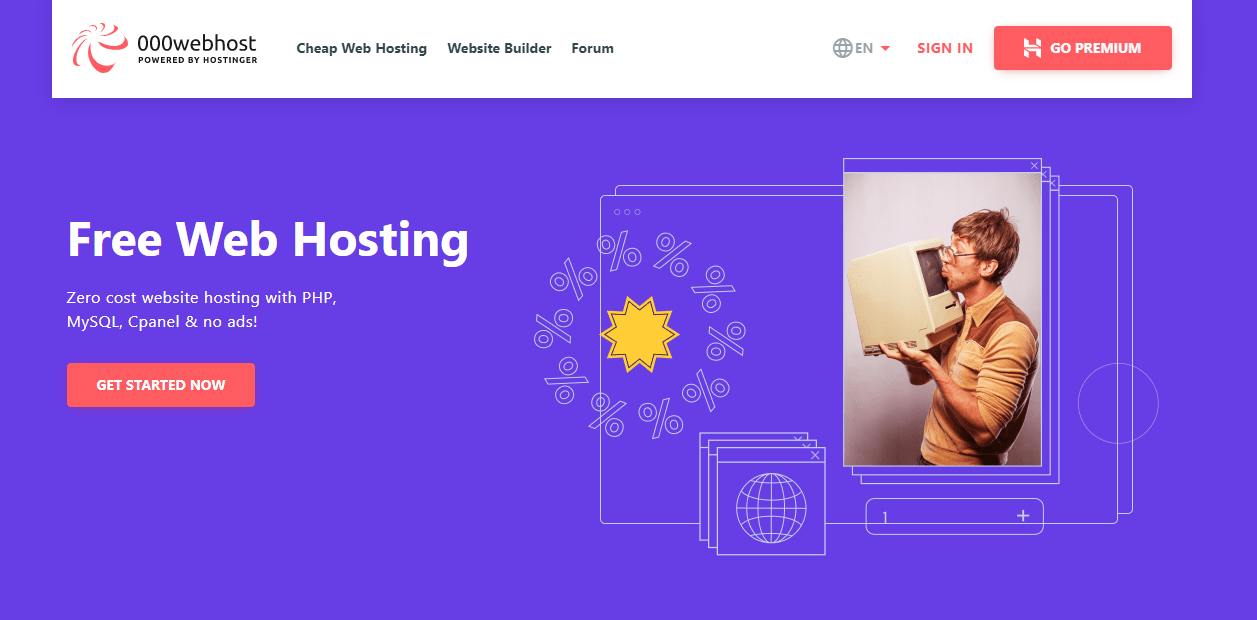 The company leveled up from there and started operating as Hostinger in 2011. Besides launching its paid hosting plans, it also introduced its own-designed control panel.
Because of its commitment to offering the best web hosting service for newbies and people on a budget, Hostinger achieved its first 10 million mark just a few years later. Hostinger also became the fastest-growing web hosting company in the world.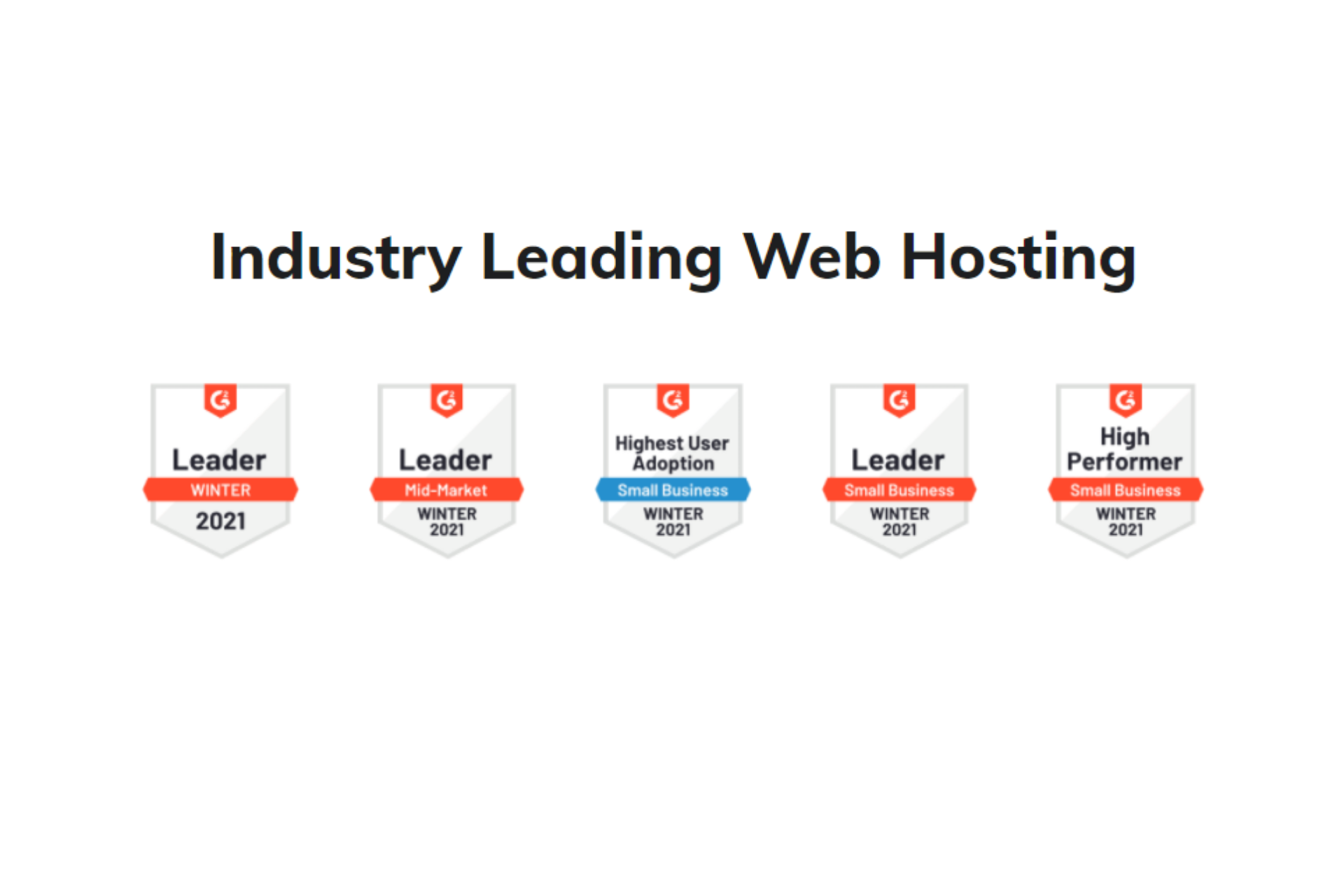 The Importance of Web Hosting Services
You might be thinking, "Why should I care about this, and how will it affect my online business?"
Imagine your web host as the foundation of a building. The stronger and more reliable it is, the better. Selecting the right hosting provider will give you a chance to focus on other aspects of your business while being confident that your website is in good hands.
So, if you want to build a website with ease and worry less about downtime, go with an excellent web hosting service like Hostinger.
Why Choose Hostinger Among Other Web Hosting Providers
What makes Hostinger stand out from other web hosting providers is its ability to provide almost the same performance as some of the most expensive platforms out there.
It can provide the same 99.9% uptime, free SSL security, 24/7 support, and more that you can get from Siteground and A2 Hosting. Moreover, it is beginner-friendly but can also cater to more experienced professionals.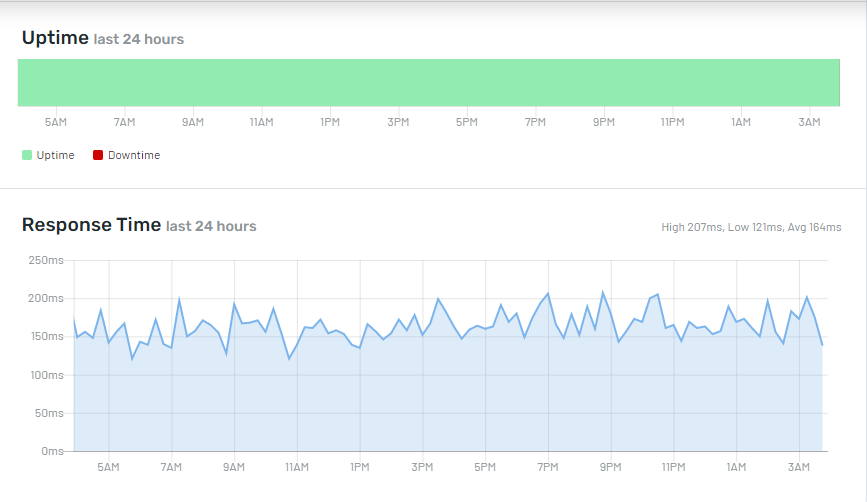 In addition, Hostinger offers a broader range of hosting services than others. Bluehost and iPage don't offer cloud hosting, but Hostinger does. Siteground doesn't offer VPS hosting, but you can get it from Hostinger. You get to choose from among the best web hosting plans and see which one is suitable for you.
Some cheaper web hosting services usually sacrifice uptime and loading speed, so buying them will only be stressful. I've seen reviews that say this happens mainly with GoDaddy and IONOS. Although Hostinger has its downs, it performs better than the two mentioned web hosts.
Let's talk about some of its pros and cons so you'll have a better grasp of what you'll love and hate about this tool.
Hostinger Pros and Cons
Pro: Quick loading time.
In a survey of Kissmetrics, 40% of users said that they'd abandon a site if it didn't load within three seconds. Are you one of the 40%?
It shows how vital page speed is to your website. Not everyone has the patience to wait for it to load. Chances are, they'll view other search results, and you'll lose possible traffic and sales.
An expert from Google said that the ideal loading time is within two seconds. Can Hostinger help you meet this requirement? The answer is yes.
This web host promised speed and reliability to its users. And we don't want to tell you this without fact-checking.
So we searched for three websites that were using Hostinger and tested them. We used PageSpeed Insights, GTMetrix, and Pingdom for this website loading test.
The first site we tested is cracksurl.com which has monthly traffic of 8,753.
Here are the results: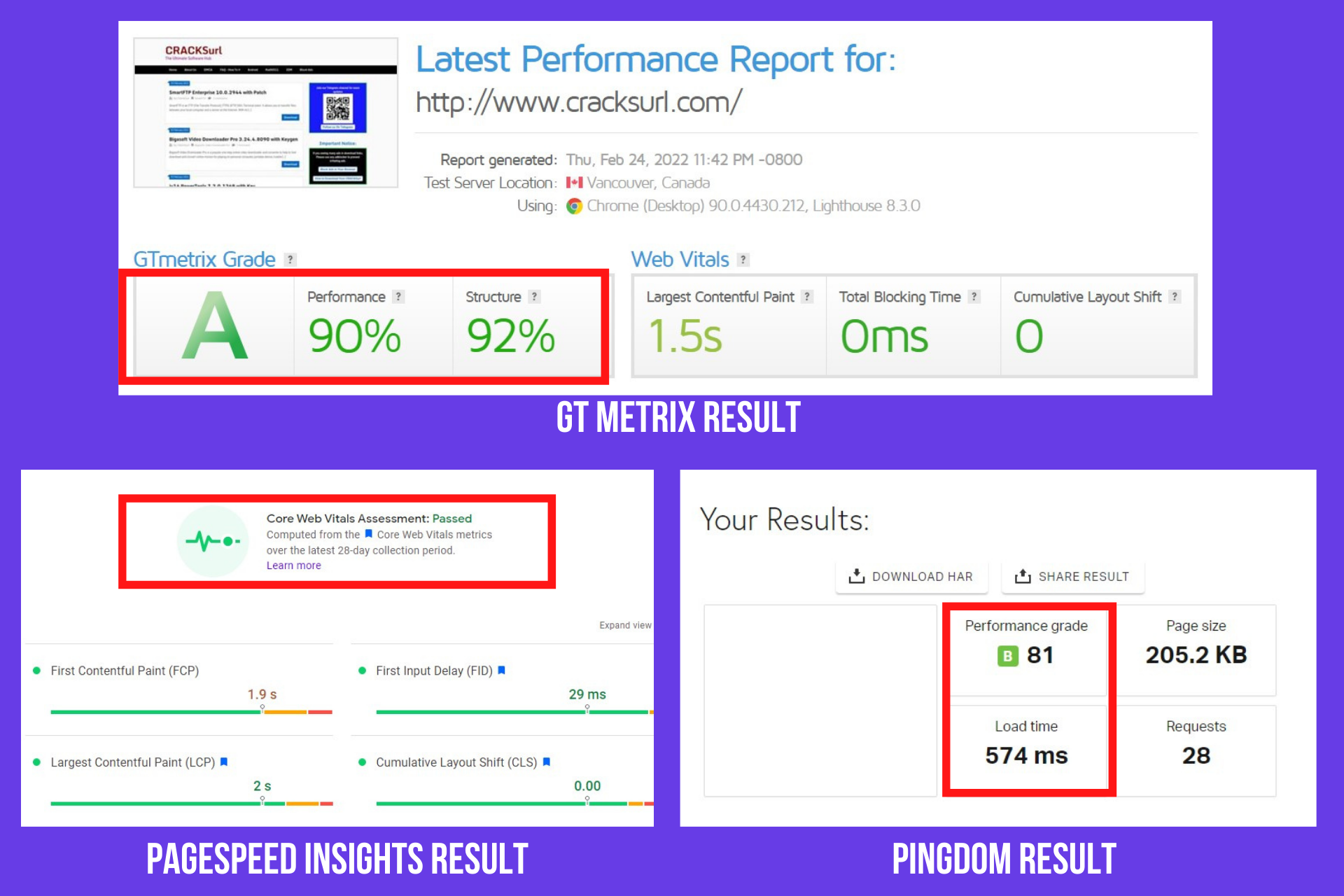 PageSpeed Insight Test: It passed the Core Web Vitals Assessment and got the following score:
Largest Contentful Paint (LCP) – 2 seconds
First Input Delay (FID) – 29ms
Cumulative Layout Shift (CLS) – 0.00
GTMetrix: It got a performance grade of A or 90%.
Pingdom: The website's loading time is pretty fast at 574 ms, and a B performance grade.
Next, we tested worldindustries.com. It has a good domain authority and receives almost 40,000 visitors monthly.
These are the test results: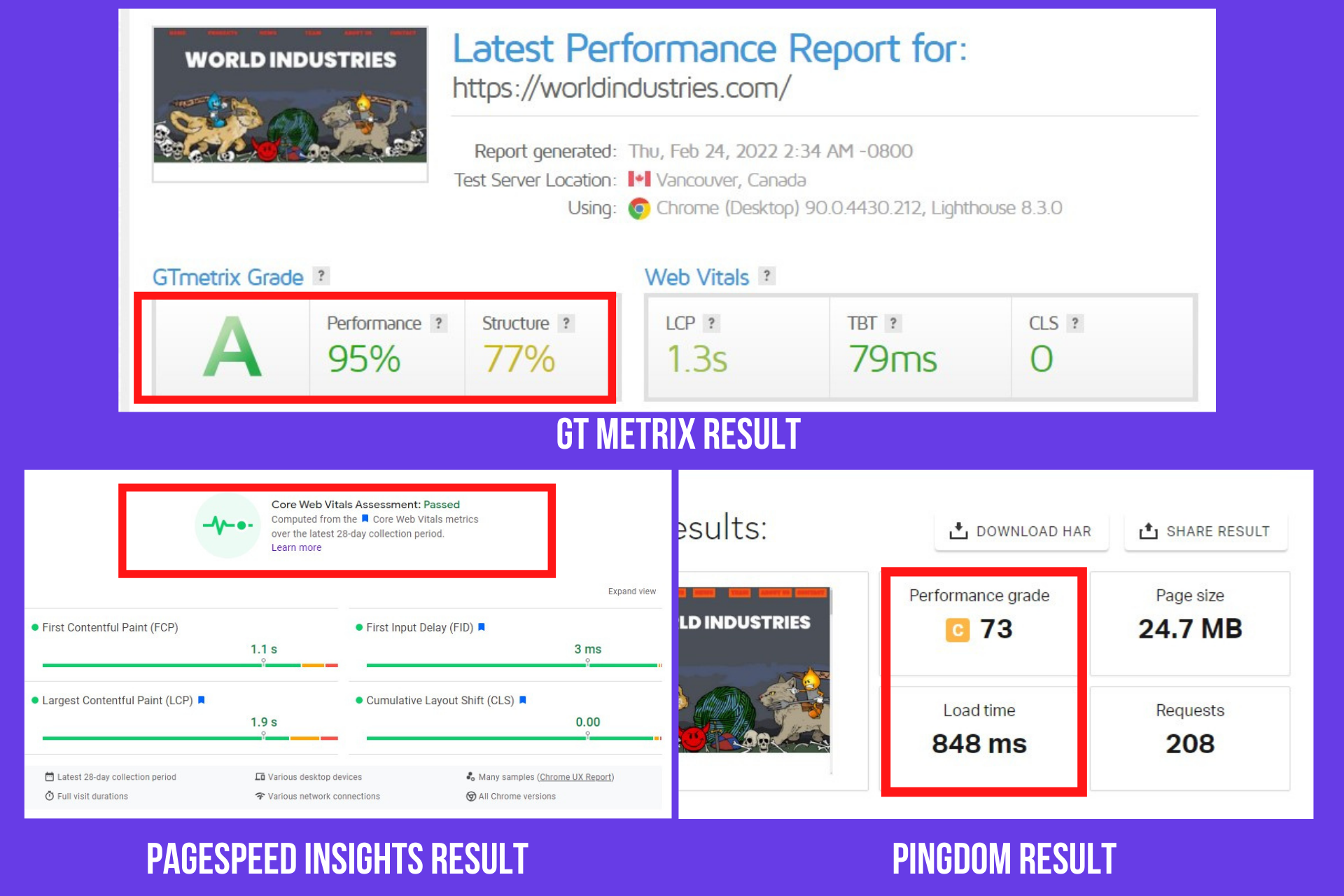 PageSpeed Insights: It passed the Core Web Vitals assessment and got an amazing score for the following aspects:
LCP: 1.9 seconds
FID: 3 milliseconds
CLS – 0.00
GTMetrix: It got an A grade and a 95% score for the performance. The core web vital score that measures user experience is also good.
Pingdom: This is where it fell a little behind and got a C performance grade. However, the loading time is still good at 848 ms.
The last site for this loading speed test is scampowners.com. It has around 1,500 visitors a month.
This is what we've got from the test: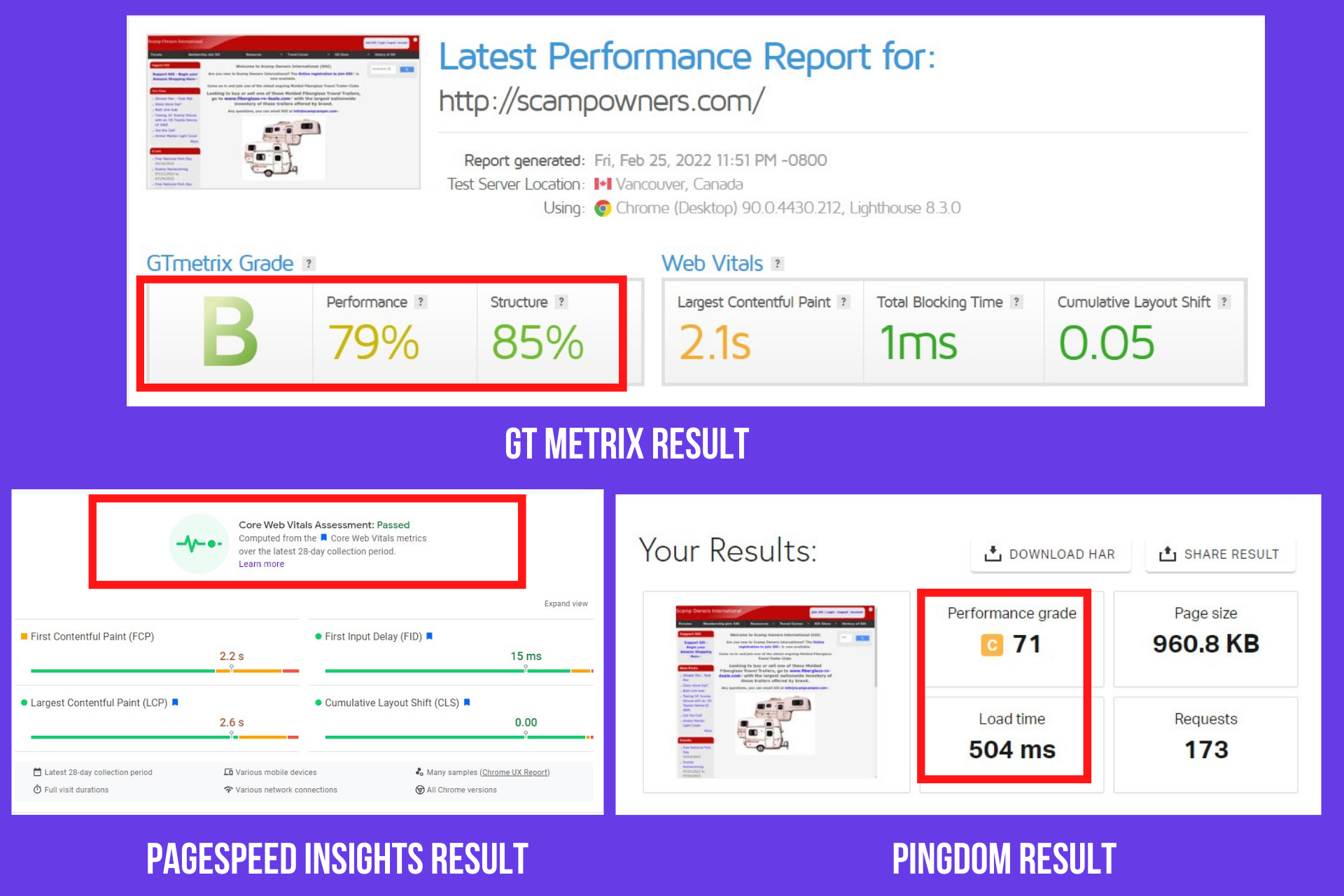 PageSpeed Insights: Passed the core web vital assessment with the following score:
LCP: 2.6 seconds
FID: 15 milliseconds
CLS: 0.00
GTMetrix: The performance score is only 79%, but the website structure is at 85%, and the site got a B grade.
Pingdom: Although it got a grade of C for this test, the loading time was only 504ms. Some other factors might have affected the performance score.
The results above show that the websites' loading time, interactiveness, and visual stability are good. They load fast enough for their visitors and provide a good user experience.
Editor's note: The performance and results under GTMetrix and Pingdom may change depending on the test location. You can modify this before starting the test.
The main reason why Hostinger is fast is that it has a total of seven worldwide servers. In addition to that, the developers constantly upgrade their systems to ensure that their users get the best service. Some of these are:
Changing HDD to SSD for faster storage;
Keeping PHP version up to date to increase the site's speed. It currently supports PHP 8, which is the current version;
Ensuring that the web host is optimized for the WordPress site to cater to WordPress users worldwide.
Pro: Handles stress very well.
Stress refers to the amount of traffic your website is currently receiving. If you are expecting a sudden surge in traffic due to product launching OR unexpected traffic because of a viral post, then your website needs to be able to handle that stress.
Websites that can't handle the sudden influx of traffic will result in a prolonged loading time, or worst, they will crash. And we don't want that to happen.
Hostinger can handle sudden traffic very well. They have a system to ensure your website won't shut down. However, you should also note the monthly visit limit of your plan.
Pro: Delivers pages to visitors faster with Litespeed Caching.
Caching is a technique or a system of storing a copy of the web page to the user's computer.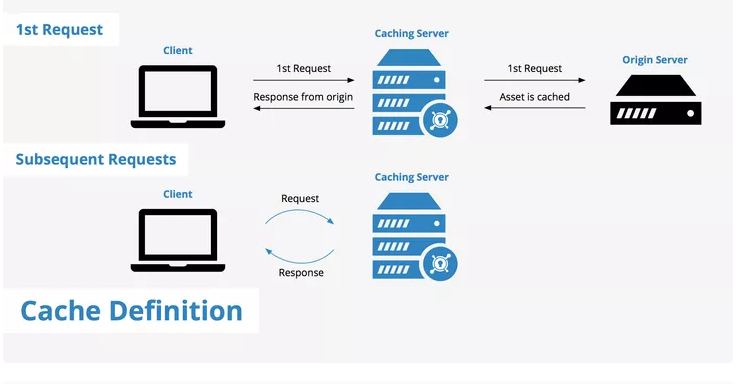 For example, if the user revisits a website, the cached copy will be used instead of downloading the entire page from the server. In addition, when you do updates on your web pages, it automatically updates on the user's computer.
Why is Caching Important
Caching can speed up the loading of pages and improve the user experience. Faster loading pages mean that users are more likely to stick around and browse your site, resulting in increased traffic and conversions.
Not enabling cache will demand everything to be reloaded every time, so your website will load slower.
Speed is essential both for users' and search engines' experience. Because of this, page caching can also affect your ranking. Faster loading pages are more likely to rank higher in the search engine results pages (SERPs).
So how does Hostinger goes above and beyond other web hosts?
LiteSpeed Cache Plugin
Well, there's this application called LiteSpeed Cache Plugin. It is the software known for helping websites boost their page speed and improve their performance. With other web hosts, you need to download the plugin first before accessing its features.
However, if you purchase Hostinger's, it's already built-in. You only need to do a quick setup, which Hostinger provides a step-by-step process on, and enable it on your hPanel.
With the built-in LiteSpeed caching, you don't need to worry about your website's speed, as it will automatically do its job in the background. No need to download any additional caching plugin as this tool will suffice.
Pro: Affordable Price Plans.
Hostinger offers the best initial hosting plans among web hosting companies. And it also provides one of the cheapest renewal costs. Even its close competitors like Bluehost and iPage cannot top this off.
Let's compare their lowest hosting plans and see the difference.
Bluehost's introductory price is $2.95/month for a 36 months contract. However, after that, the renewal fee jumps to $8.99/mo for the same term. That's a difference of $217.44.
The same goes for iPage. iPage offers a lower introductory price at $1.99/mo for a 3-year term. But after that, the renewal price will cost you $7.99/mo. From $71.64, you need to pay $287.64 in total to use iPage for another three years.
However, with Hostinger, the single shared hosting costs only $1.39/month, and you can get a more extended contract period of 4 years. And after that, the renewal price for the same contract is $3.99/month.
The numbers show that you can save more with Hostinger's hosting plans.
Other Pros:
Easy to use interface. The developers built its control panel with beginners and non-techies in mind. The design is minimal yet powerful as everything you need is organized in one place.
Free website builder and free domain. Hostinger also offers a free website builder and a one-year free domain. Although the website builder is not as good as the other web hosts, it's enough to create a responsive and professional-looking site with no coding needed.
Multilingual support and data centers across the US, Europe, and Asia. Their support team can understand 11 languages, including Chinese, French, Thai, Lithuanian, and Spanish. They also have seven data centers worldwide to ensure that your website will run smoothly, no matter the location.
Con: hPanel is simple and quite basic.
A control panel works at the back-end of your website. It's where you can access and manage your domains, emails accounts, files, applications, and other essential features.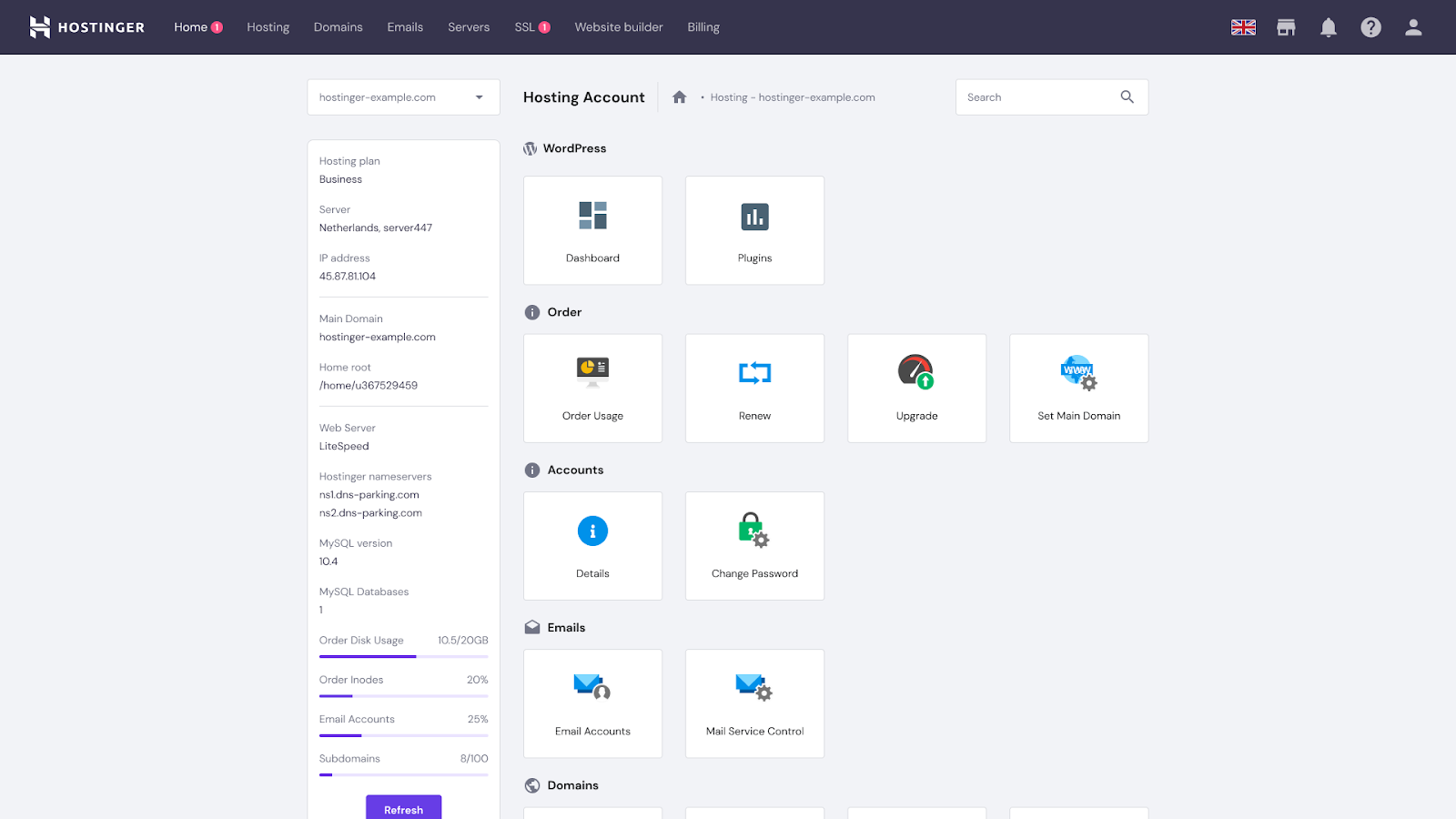 hPanel is Hostinger's very own control panel. It's the counterpart of the most widely used cPanel. Some of the features included in the hPanel are the following:
Auto installer and easy installer feature for over 50 applications.
Database and file manager for editing, creating, and importing databases in just a few clicks.
An account manager to access nameservers, IP addresses, and other technical data.
DNS Zone editor for Hostinger's web hosting users to change their DNS records for their domains.
PHP configuration feature to choose which script you'd like to use for your website.
A site migration access to help you transfer an existing site to this web host.
Email account setting for viewing your email accounts and ordering new ones.
Website and domain manager for accessing and modifying your website and domain files.
For beginners, hPanel is good enough as it provides all the essential features to run a website entirely. It's clean, organized, and easy-to-use so you won't feel overwhelmed by all the tools. In addition, hPanel is free when you avail of Hostinger's web hosting service, but cPanel isn't available to all, and it can get pretty expensive depending on what you need.
If you're a more advanced user, you might find hPanel lacking. In this case, cPanel can provide more flexibility. It offers a virus scanner, website cloning, backup configuration, mailing filters and routings, and third-party tools. cPanel can be pretty overwhelming and outdated, though.
Con: Customer support takes time to respond.
Hostinger mentioned that they offer 24/7/365 support. But, their customer support is usually offline and replies to queries much slower than other web hosting providers.
It offers live chat support for Hostinger users, but you have to wait for an hour or more before getting a response.
It may or may not be a minor criticism depending on your view. However, it won't hurt if you're someone who can wait for a few hours as they mainly help you resolve the issue.
Con: Non-standard payment terms and refund policy.
Yes, Hostinger provides a 30-day money-back guarantee. But there's a chance that you won't be getting a full refund. There are a few exceptions, and I advise you to read Hostinger's Refund Policy to avoid any issues after buying the tool.
Here are some terms that you should take note of:
All hosting plans, domain transfers (excepted .eu and .es), and SSL certificates are refundable.
SEO toolkit, Google Workspace Email, privacy protection, redemption fees, and domain name renewals are non-refundable.
All transactions and products bought using cryptocurrencies, and other digital tokens are non-refundable.
Keep these in mind before moving forward.
Hostinger Pricing & Features
Before discussing the shared hosting pricing plans, here are the other best web hosting services that Hostinger offers: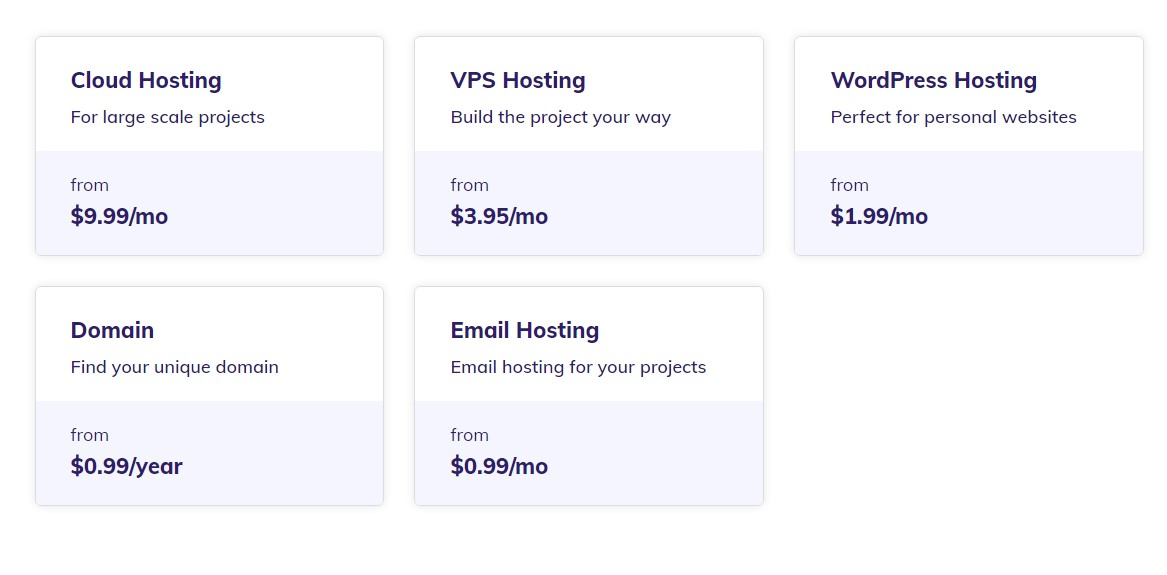 Cloud hosting – more reliable and expensive than shared hosting. Cloud hosting is the closest you can get if you want something powerful like dedicated server hosting.
VPS hosting – Virtual private server (VPS) hosting is a web hosting that uses a virtual machine to host your website. VPS hosting plans are perfect for businesses that are expecting higher traffic.
WordPress hosting – provides more advanced features for WordPress websites.
Email hosting – is for creating and managing emails for your business.
cPanel hosting – provides a more flexible and reliable control panel for your website.
Single Shared Hosting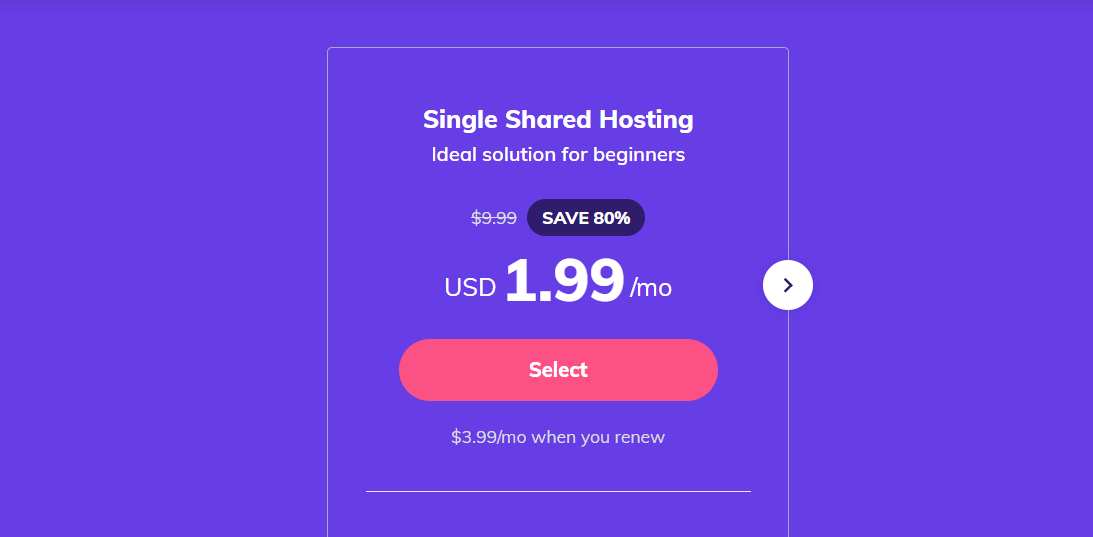 Beginners can benefit the most from this shared web host plan. But compared to the two higher web hosting plans, it's constrained.
For as low as $1.99/per month, you can still get the basic features like the free SSL certificate, 24/7 customer support, hPanel access, and 99.9% uptime. It won't be challenging to manage your site.
However, you're only allowed to create one website, email account, and two subdomains. It's not ideal if you're planning to produce more content on different topics or create subpages. In addition, the Single plan only lets you park two domains, and you won't get a one-year free domain like in the two higher options.
The storage speed is also limited to 30GB, and you can only store up to 100GB of bandwidth. So if you're planning to upload videos and store heavy media formats, this might not be enough.
But don't worry. You can upgrade your plan once your business and visitors grow. If you want to save more for this plan, you can choose the most extended contract, which is 48 months.

Summary:
The Single plan has a free SSL certificate, 24/7 customer support, and 99.9% uptime.
You can access 30GB SSD storage speed and 100GB bandwidth.
You can only create one website, email account, and two subdomains.
Depending on the contract period, the price can vary from $9.99/month to $1.99/month.
It doesn't include a one-year free domain.
Premium Shared Hosting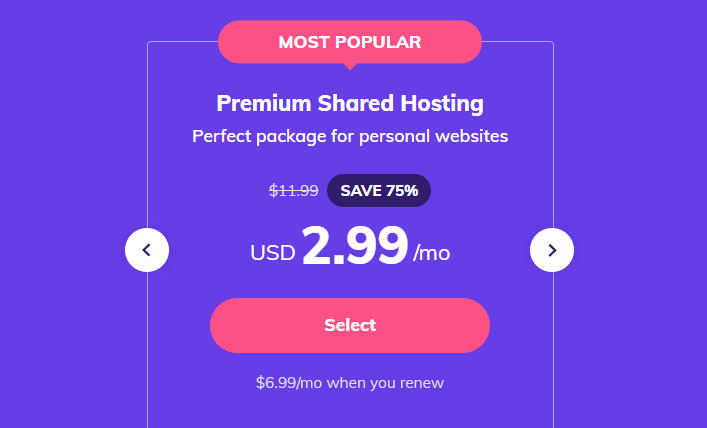 The Premium plan is perfect for those creators and professionals who have a growing audience. It gives more flexible limitations such as 100 websites, 100 GB SSD storage, and unlimited bandwidth for as low as $2.99/mo.
A higher SSD and unmetered bandwidth allow users like you and your visitors to access data faster. With this plan, you can accommodate up to 25,000 monthly visitors. These are useful for businesses and for people who are expecting higher traffic.
You can create up to 100 free email accounts and subdomains. Plus, a free domain for a year. The email accounts are valuable if you're planning to make different emails for your business to organize the flow of the messages you receive.
Aside from unmetered bandwidth, you'll get unlimited databases that you can use to store different types of content. You can use this space for lead capture forms, feedback forms, inventory, email addresses, etc.
The Premium plan pricing can go as high as $11.99/month if you choose the monthly contract but can go as low as $2.99/month for the 48 months contract.

Some features missing on premium web hosting are the Cloudflare CDN, daily backups, and WordPress staging tool.
Summary:
The Premium plan provides everything from the Single shared hosting but better.
You're allowed to add up to 100 websites, email accounts, and subdomains.
You can access 100 SSD storage, unlimited bandwidth, and unlimited databases.
Free one-year domain included.
Prices vary from $2.99/month to $11.99/month.
Business Shared Hosting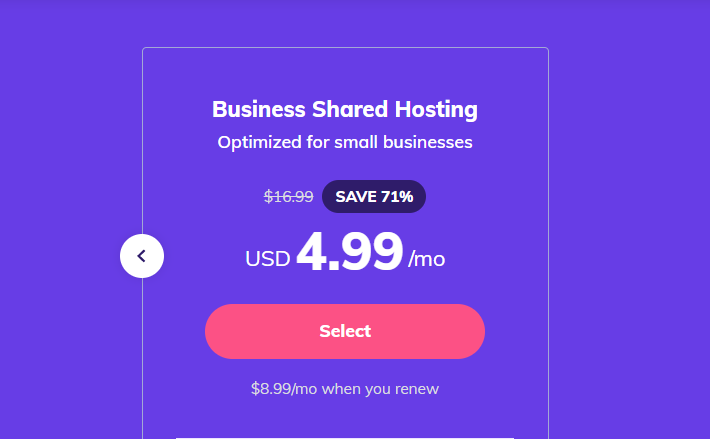 Although you won't access unlimited websites, the Business plan's SSD storage and monthly visitors capacity are more massive than those above.
For only $4.99/mo, you can get up to 200 GB of SSD storage and accommodate 100,000 monthly visits for four years. It's a better option if you're managing a medium to larger-scale business.
It also has the Cloudflare CDN that the Single and Premium plan is missing. This feature gives a boost to your videos' loading time and buffers regardless of your visitor's location. The Business plan also provides daily backups and a WordPress staging tool.
The WordPress staging tool lets you test changes and new features on a clone of your website before implementing them on the live site. It can prevent major issues in case something goes wrong after the modification.
If you choose to pay monthly, it will cost you $16.99/mo, and it comes with a $4.99 setup fee. The setup fee is also included in the monthly plan options of Single and Premium shared hosting plans.

Summary:
Business shared hosting provides everything in the Premium hosting plan plus Cloudflare CDN, daily backups, and WordPress staging tool.
You'll get access to 100 websites and subdomains, 200GB of SSD storage, and accommodate up to 100,000 monthly visitors.
The Business plan pricing can be as expensive as $16.99/month or cheap as $4.99/month.
Hostinger Alternatives
If you decide Hostinger isn't for you, don't worry. There are plenty of other great options to choose from:
Bluehost: Most Popular Web Host
Bluehost is a well-known web hosting company lauded for its straghtforward and easy-to-use platform. All plans include a free domain for the first year, free data CDN, and a free SSL certificate. Their reliable uptime is backed by real-life data and users get access to an easy website builder. Shared web hosting starts at $2.95/month, which already comes with resource protection and basic backup functionalities.
Hostgator: Web Hosting with a Website Builder
Hostgator is a popular US-based web hosting solution. They've been around since 2002 and have made their mark, offering low, competitive prices. From $2.75 a month, you can expect to host one website, connect a custom domain, and have an SSL certificate. In addition, Hostgator boasts good uptime speed, so you can be sure of its reliability. You'll also have access to an AI-fuelled website builder, so you can set up a WordPress site in just a few clicks.
Hostgator's drawbacks lie in its poor customer service. For example, they have notoriously long waiting times for their support chats. In addition, customers have complained that their team didn't have a good technical understanding of website management. Also, as noted above, they have one of the slowest website speeds of all the competitors listed here.
Siteground: Best Shared Host Customer Support
SiteGround is an excellent choice if you're looking for quick website speeds and reliable uptime as they reign supreme in both areas. They're another European-based provider gradually gaining popularity for their well-priced and fast hosting services.
Their Starter plan of $2.99 (per month) gives you one website, SSL, and CDN certificate. You also receive free daily backups, access to their website builder tool, and free firewall security built into your website. Finally, they also have WooCommerce integration options available.
On the downside, Siteground only offers shared hosting plans. They don't provide VPS hosting or dedicated servers. Your resource space is also considerably limited (10 GB) compared to competitors. Moreover, it doesn't offer a free domain name.
FAQs
Q: Is Hostinger safe?
Yes. Hostinger is a safe and reliable web hosting provider. They have been in the industry for over 18 years and have a good reputation. They provide free SSL certificate, 24/7 server security, DDoS protection, and website backups. These ensure your, your website, and your visitors' safety to avoid any data loss and information theft.
Q: How good is Hostinger?
Hostinger is a reputable web hosting company, and even with its affordable price, the plans and features are pretty impressive. It got satisfactory rates from different review websites. Here are some to name a few:
– TrustPilot – 4.2/5 from 3,143 reviews
– G2 – 4/5 from 139 reviews
– Capterra – 4.6/5 from 183 reviews
Q: Where are Hostinger's servers located?
As of writing, Hostinger has seven servers across the globe. They have servers in the Netherlands, Lithuania, UK, Singapore, India, USA, and Brazil.
Our Verdict
Among the hosting providers in the market, Hostinger is one of our favorite. We hope that the information we provided above is enough to convince you why it's worth your money.
So if you're looking for a shared hosting service that is affordable, reliable, and user-friendly – Hostinger is a perfect choice. Right now, they are offering a discount promo, and this is an excellent opportunity to start building your website, so don't miss it out!