If you have a blog, chances are you've already heard about SEO and its incredible importance in attracting visitors to your site.
But do you know how to optimize your blog posts to make them more search engine friendly?
The fact is that Google, like any other business, has a mission. And if you want to succeed, it will help you to be familiar with it. Luckily, their mission statement is out there for anyone to see, and it goes like this:
"Google's mission is to organize the world's information and make it universally accessible and useful"
Is your blog's SEO up to Google's mission?
Well, this can only happen if you understand the importance of Search Engine Optimization (SEO).
Let us explain.
In 2019 Google had over 75% of all global search traffic on desktop alone, followed by Bing at 9.97%, Baidu at 9.34%, and Yahoo at 2.27%.
Also, 64% of marketers are actively investing their time and money into SEO.
Why?
Simply because that's where the money is. Think of your blog as a virtual piece of real estate, which appreciates in value as an increasing amount of people visits the website.
Once your site is easy to find, you get more traffic, which translates into increased monetization potential, whether that's via affiliate marketing, ads, or even physical products.
However, as a beginner, you need to know that Google algorithms keep on changing. It has over 200+ ranking signals (server location, site readability, inbound links, domain authority, on-page user behavior, and many more). Thus you must stay afloat on SEO updates.
In this post, we will reveal 12 up-to-date ways you can optimize your blog content to get a high rank in Google and increase your blog traffic as a result.
Ready? Let's dive in.
Here are some our best SEO tips for bloggers in 2023:
1. Use a search-friendly CMS platform
No matter whether you're planning to start a blog as a business or just as a hobby, you need a Content Management System (CMS). CMS is a web-based platform that, as the name suggests, enables you to create and manage content on your website.
However, not all CMSs are created equal. As you pick your platform and plan to be found on Google, it's crucial to choose CSM that is SEO friendly.
We recommend WordPress that you can easily install on Bluehost – one of the most beginner-friendly web hosting providers.
As you can see in the graphic below, WordPress is by far the most popular solution. In fact, WordPress powers a whopping 36% of the entire web.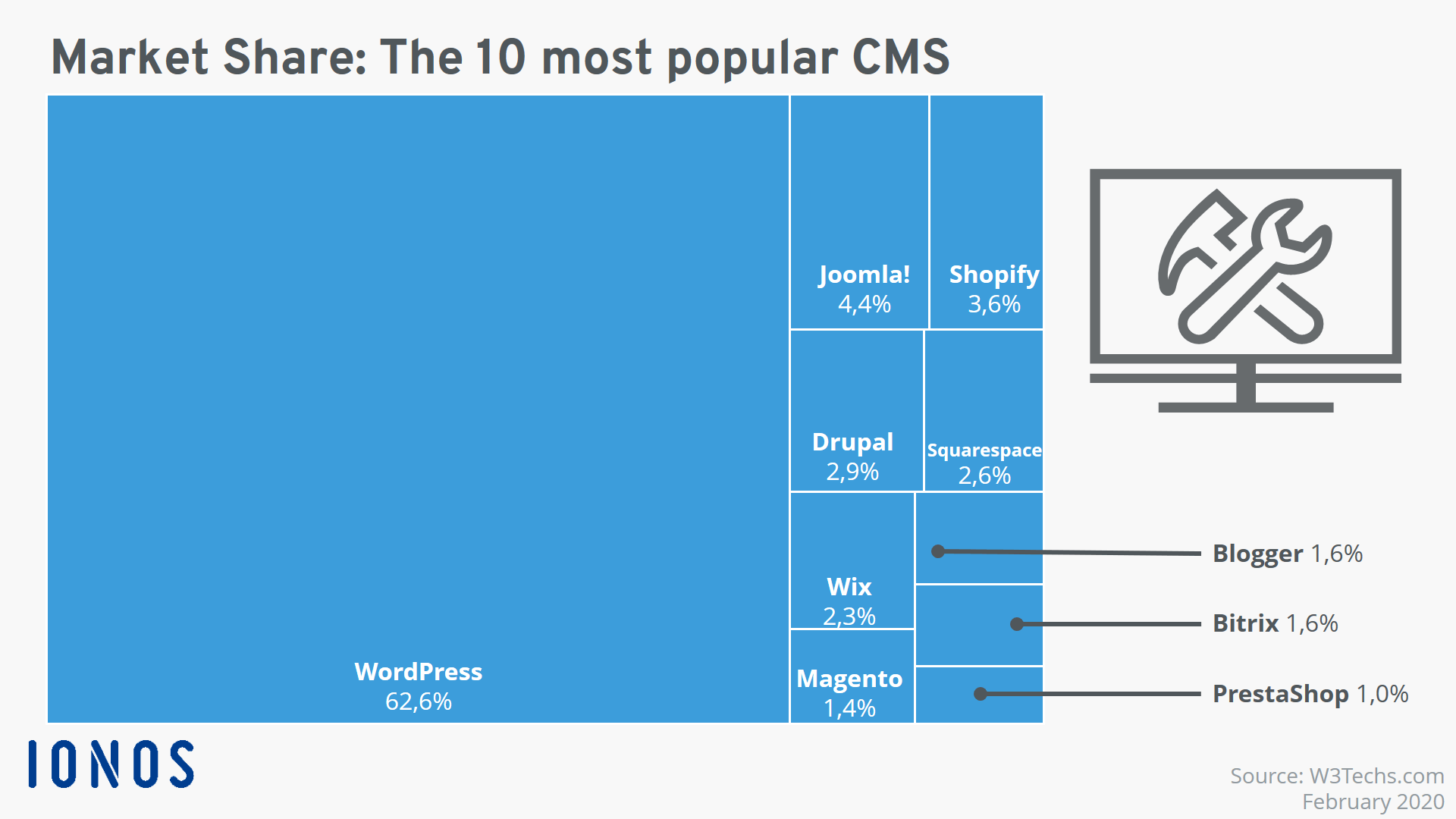 Why WordPress?
WordPress itself is 100% free and open source. You only pay for the domain and web hosting.
With WordPress, you can create custom permalinks and modify metadata by adding relevant keywords.
Finally, WordPress works well with blog SEO plugins like Yoast, Google XML Sitemaps, and Google Analytics by Monster Insight to boost SEO ranking.
Start a Wordpress blog now with Bluehost and get 51% off your hosting plan ($3.95/month).
2. Speed up your website
Did you know that 40% of visitors abandon a page that takes more than 3 seconds to load?
Speed is very important for a website. It's so important that Google has recently made it an actual ranking factor.
Oftentimes, low website speed leads to a higher percentage of visitors who enter the site and leave immediately instead of continuing to view other pages within the same site.
Increased bounce rate is picked up by search engines, reducing the crawl rate, and ruining your blog SEO efforts in the process.
How can you improve your page speed?
First off, head to tools like GTmetrix or Page Speed Insights to see what's your initial page load time.
Once you have your initial results, it's time to optimize. To further improve your website speed, you should:
Move your website to a better host
Pick a fast website theme
Optimize the size of images on your website
Reduce the number of plugins
Use website caching
Minimize the number of JavaScript and CSS files
Reduce redirects
Once you've configured plugins and optimized your site, it's time to revisit your website speed test of choice and see if there's is a noticeable improvement in the page load time.
Your results should look similar to the report below.
3. Use a mobile-friendly theme
Mobile search is no longer the future of blog SEO but it's here with us. In fact, mobile SEO is the backbone of Google indexing.
Why is mobile SEO so important?
The reason is simple. As of today, more than 70% of online content consumption takes place on mobile devices and 67% of shoppers buy from a mobile-friendly site. Therefore, we suggest you adjust your site to be mobile-friendly.
With the mobile-first index, Google now ranks search results from mobile search.
Responsive designs for mobile-friendly sites are the best. They make your website to be visible from any device (mobile, tablet, or desktop).
Further, responsive designs show one URL. They don't duplicate content, have no redirects, and show a consolidated authority.
To check if your site is mobile friendly use these tools:
4. Install XML Sitemap
An XML sitemap lists all important webpages on your site.
A good XML sitemap is like a roadmap of your website. It leads Google to all the important pages.
The example above shows how easy sitemaps help find page 9 through the XML sitemap file.
If you access it through websites it will have to jump through 5 internal links to find page 9.
When you include SEO relevant pages on XML sitemaps, you help search engines easily crawl to your site.
It is critical that when submitting XML sitemaps you avoid the following:
Noncanonical pages
Duplicate pages
Paginated pages
Site search results pages
Reply via comments URL
Archive pages
Redirects
Pages blocked by robots
Pages with non index
Utility pages like contact us, privacy policy, and login pages.
How to add sitemaps to Google Search Console
1.Sign in to Google Search Console
2. Select your website from the sidebar
3. Click on sitemaps menu under the index section
4. Remove invalid or outdated Site maps if any
5.Enter Sitemap-index-XML then add new
6. Click submit
5. Do Keyword Research and focus on Long Tail Keywords
Keyword research is the cornerstone of any blog SEO campaign.
Keyword research is how we discover words and phrases that people use while searching. The goal being using those terms to rank.
It helps you get phrases that you'll use in content promotion,creating topic ideas and phrases for traffic growth.
These phrases will be used in link building and coming up with terms to optimize for search engines.
We recommend that you focus on long tail keywords.
Long tail keywords are phrases with 4+ words that are very specific. They show the searcher's intent rather than the search language.
They are less competitive with 10-200 searches per month.
An Example of long tail keywords are:
"Affordable life insurance for seniors citizens"
"Order vitamin D capsule online"
There are many ways of finding keywords.
Keyword tools like SemRush make your work easier. With SemRush keyword explorer you get a lot of helpful data on each keyword that you search.
You may also check out our post on Free Blogging Resources to find other useful keyword research tools and much more.
6. Focus on in-depth long-form content
Long-form content is content that is more than 1500 words.
It's the most preferred type of content that will help you rank very well in the search engine.
According to the SerpIQ report, the average number of words of content that rank #1 is 2,416 and that rank #10 is 2,032. This means that for your content to rank on the first page, it must be a long-form.
Further research by Brian Dean from Backlinko confirms that long-form content out-performs short content.
So what are the benefits of long-form content?
It increases your online visibility
Helps build authority as an industry expert
Allows to garner more social sharing
Acts as a magnet for link building
Although long-form content will make you rank better, it's all about quality. Creating actionable in-depth content will help you rank even better.
7. Place Chosen Keywords in Strategic Parts of Your Post
Knowing where to place keywords can improve your ranking.
We recommend that you place your keywords in these strategic parts on your post.
Page title: It describes the main subject of your page and shows up first in a search result.
Meta description: It helps Google determine how relevant your content is and help searchers decide to click the full content on your site. Including the target keyword will make your content relevant to the search.
Headings and subheadings: They make your content scannable and help visitors decide the relevance of the content.
Content: Use your main keyword in the first couple of sentences at least within the first paragraph and spread it sparingly all over your content.
The best practice is to use Latent Semantic Indexing (LSL) rather than the exact keyword. However, avoid keyword stuffing that will actually hurt your search ranking and you get penalized.
URLs: Weird Urls with a string of numbers and characters is a big turn off to Google and visitors. But the URL with the main keyword gives a clue of what is on the page.
Links: Use LSL keywords as anchor text
To make your work easier, we recommend using the Yoast SEO plugin. It shows what you need to do to rank better.
8. Optimize your images with alt text
Did you know that images get indexed too?
To optimize your images use alt text which acts as a description of the actual image. While its original purpose was to serve people with visual impairment who are unable to read an image, today it's widely used as a way to further optimize your blog's SEO.
To optimize your images:
Make sure any image you use is relevant to the topic of your posts.
Change the file name from IMG-5303 to something user friendly. You can use LSI keywords if they make sense.
Use SEO keywords in image titles. They usually pop up when you hover your mouse over an image.
Use your main keyword in alt text if it feels natural and corresponds with the image, but avoid filling all alt attributes with keywords (keyword stuffing) as it may cause your site to be seen as spam.
9. Link internally
Internal links are links that point to one more page on the same website.
Why is internal link important?
It enables users to navigate a website
It established information order on a website
Spreads link ranking power throughout the website
For effective internal linking, we recommend the following best practices.
Use keyword-rich anchor text on your links,but don't link pages with the same anchor text as Google considers them to be of the same topic. Instead, use different descriptive anchor text.
Put links high up on your page. This may include adding navigational links. It improves dwelling time which is the number of time searchers spend on a page,Google considers it as a ranking factor.
Link to important pages like the homepage which is the most authoritative page on your site.
Finally, add a related post section below or add links to recent or popular posts for internal linking.
10. Increase your Domain Authority by acquiring Backlinks
Who's gonna find me if I don't have Domain Authority?
Domain Authority (DA) is a ranking matrix developed by MOZ. It predicts on a scale of 1-100 how well a site ranks.
The closer to 100 the more authority, traffic, and better ranking.
Below is how you check your DA:
Use the MOZ Open Site Explorer
Head over to MOZ.com/Reseach tools/OSE
Using the search bar at the middle enter your site URL
Hit search to get the results on your DA listed under the authority heading.
There are many factors that contribute to DA and to improve your DA you must focus on all.
Here are some that we recommend.
Guest posting
Guest posts generate more traffic to your website. If your guest posts rank well on Google then more people will follow backlinks back to your site.
We encourage you to write as many guests post to authority sites.
Link each guest post with a few other guest posts from your website.
Eventually, your DA will improve.
Broken link method
Run an audit and remove broken links. Avoid spammy links. On the reverse get more traffic driving links plus more high authority links
Skyscraper method
This method by Brian Dean of Backlinko works to improve DA.
First, search for content in your industry that is performing well (in terms of links). Use Google and check content on the first page.
Next, create a piece that is 5-10X better than what you just found.
Finally, make your content go viral on social media or via email.
You can use this email outreach example.
Remember that personalization is key. While having a template is helpful, making sure that each email has a unique detail on the targeted website is an important factor in increasing the chances of getting a reply.
11. Blog SEO:Use topic clusters
Is your blog overloading with information? Do you have thousands of blog posts on marketing, sales, and advertisements like the way Hubspot has?
How organized is your content? Not many sites are well organized. They have content that overlaps with others, some share the same URLs and start to compete with one another on Search Engine Result Page (SERP).
Topic cluster groups all related blogs under a specific topic. This makes it easy for the search engine to crawl through the pages.
A quick example is how Hubspot site architecture looked before and after the topic cluster.
Before:
After:
So how do you create topic clusters?
Start by identifying the topic, then the pillar content, and the cluster topics. Finally, hyperlink them all using long-tail keywords.
Let's use an example:
Main Topic / Keyword: Instagram marketing
Pillar content: Nail Instagram marketing in 2023 (This should be a great in-depth resource)
Cluster content:
How to Write Perfect Instagram Profile
How to Write Good Instagram Captions
Instagram Stories: How to Get Started
How to Use Instagram Stories to Market Your Brand
All these topics must be linked.
12. Repurpose or update your current content
There are over 4.4 million blog posts published daily. That means 3,000 posts per mintue.
This shouldn't make you panic but rethink on how to use your already published content that is performing well.
After this we recommend you repurpose it and update it.
By repurposing content you save time and build on what is already there other than start from scratch.
For Blog SEO purposes repurposing helps you drive more traffic. It keeps your content fresh as Google wants you to stay relevant. You also build on-topic authority.
How can you repurpose blog posts into fresh awesome content?.
This is by turning evergreen content to:
Infographics
Guest post

Videos

Social media posts
Whitepapers and e-books
Evergreen content doesn't have an expiry date. They fetch a lot of impressions, clicks, and keyword rankings.
What you need to do:
Revisit them and keep them fresh.
Free grammatical errors and links that are not working.
Update this content with new information including what can be found on featured snippets.
Keep the evergreen content on your social media rotations
Continue to build backlinks that will help your blog SEO ranking.
Other than that, clean your house! Delete content that is not doing well, inaccurate, old, and not in line with your current blogging objectives.
Key Takeaways
In a nutshell, you get more clicks from organic search results than paid Ads.
SEO brings 20 times more traffic than PPC both on mobile and desktop. It is also the only online marketing channel when set correctly will continue to yield more and more over time.
Whereas Ads will need constant funding to bring traffic to your content. Blog SEO will do the job with the first investment only.
Do you think there is anything we have left out? Share with us your favorite blog SEO tricks in the comment section below.