How to make your content go viral?
Content marketing has been a noisy buzzword for a while now. Every content creator is on the lookout for the most social shares in the hopes of becoming wildly popular overnight.
With almost 90% of startups using content marketing techniques to promote their products and services on the internet, it's no secret that the competition out here is quite stiff.
The moment your content becomes viral, it immediately starts living its own life and introduces your brand to a whole new audience that would be unreachable via traditional channels.
It could be a Youtube video, blog post, tweet, or almost any other content that gets viewed, shared, and talked about.
At this point, you might think that making your content go viral is as likely as hitting the jackpot, but the reality is very different. If you're looking to generate buzz for your business or just want to know a thing or two about viral content marketing, continue reading.
We've put together an ultimate guide that will help you engineer your viral content and make it irresistible to your audience.
It's time to go viral!
Here are our top 15 tips to go viral in 2023:
1. Search engine optimize your content
Without a doubt, search engines deliver the most sustainable and long-term traffic to websites. So, to make your content marketing go viral, identify potentially viral and low-competition keywords, and then optimize your content for these words.
Want a way to simplify this process? SEMrush's Keyword Tool is the perfect solution. This tool:
Unearths over 2 million keyword ideas.
Enables you to segment keywords into groups.
Picks the best keywords based on whether or not you can rank for them.
2. Focus on the headlines
Headlines change the way readers visualize your content. You'll be amazed at how simple it is to make your content go viral using killer headlines.
First impressions really matter. Hence, a catchy headline is essential while creating viral content.
According to CopyBlogger, about 80 percent of visitors will read your content's headline, while only 20 percent will read the rest of the article.
Lenka Istvanova of Koozai Marketing came up with an ultimate headline formula based on her analysis of the most clicked headlines. The formula goes like this:
Let's look at some other great headline examples:
X of the _______ _______ You'll Find Today
X of the Best Films You'll Watch This Month
X of the Most Important Articles You'll Read This Week
_______ Vs _______: Which Is _______?
iPhone Vs Android: Which Is One Is Better?
Tennis Versus Badminton: Which Is Easier?
Here's What You Don't Know About _______ That Could _______
Here's What You Don't Know About Credit Cards That Could Bust Your Budget
Here's What You Don't Know About Content Marketing That Could Harm Your Business
As you can see above, there is a number of proven formulas to create eye-catching headlines with many more variations out there. If you're interested in learning more about creating the perfect headline, definitely check out Crazy Egg's ultimate list of best headlines.
✓ Take time to create a good headline
✓ Use proven techniques and formulas
✓ Don't forget to include keywords in the headline to improve your SEO
3. Let your readers/ viewers comment
Comments are great social proof, but they don't go as viral. People aren't commenting on blogs as much because they have to keep going back to the blog. People comment because they want to be heard.
Let's take Facebook as an example. If someone left a comment on your fan page or even better, tagged their friend on your post, there's a good chance that their connections on Facebook, might notice that and engage in a discussion.
Not only is this conversation happening on your site, but it's happening on all these other people's feeds.
See where we're going with this?
Commenting nowadays is not only nice to have, but a must to keep you connected with the readers and add that extra juice to the vitality potential of your content.
In fact, Pat Flynn from The Smart Passive Income insists that if a blog doesn't accommodate any comments, then it isn't good enough.
Furthermore, when it comes to informational content, you can use comments to improve the quality of your existing or future content, based on the pain points and suggestions from your readers.
If the content sounds conversational, emotionally appealing, and, most of all, informative, you should expect it to be flooded with comments and subsequently attract more social shares.
✓ Use a large comment section as an impressive amount of social proof
✓ Improve the quality of your content with user-generated feedback
✓ Respond to your readers' comments, to maintain and strengthen the relationship
4. Use lists
There's something in lists that makes us love them so much. If you're curious to know more about this peculiar relationship, check out New York Times's deep dive into why our brains enjoy lists.
In the meantime, let's look at Buzzfeed, the master of viral content and the list of post.
We can see from their most shared content above that literally every post is a list of some sort.
Why does this particular post format work so well?
Lists make the sharer seem smarter, they're countable and usually help to solve some problems. No wonder the BuzzFeed team is such a massive fan.
✓ Work on the headline. BuzzFeed creates 50 potential headlines for every article
✓ Share helpful content in list format ( gift ideas or holiday destinations work great)
✓ Images still work – incorporate relevant pictures in your lists
5. Make it visual
To spark an exceptional form of engagement on your blog or social media posts, we would need to use highbrow visuals and infographics in our content.
About 55% of marketers use visual content to catch the target market's attention.
Visual content creates an aesthetic feel for your readers as compared to large blocks of text.
Content marketers make landing pages using high-resolution images to express emotions that readers can connect with.
Images, videos, and detailed infographics are some of the bits and pieces you can use to make your content look more visual.
After a few pieces of text, you should break your content's structure using images and animated infographics to engage the reader.
Although the idea to level up the visual game may require an increased time commitment on your side, it is, on the other hand, a truly proven tactic used by marketers to make content go viral.
If you're looking for a place to start, check out Visme's guide on how to make an infographic.
✓ Always include visual content in your blog posts
✓ Infographics are social share magnets
✓ Make sure that included images are relevant and add value to the rest of your content
6. Make it easy to share
The overall viral potential might fall short of the objectives if your content doesn't have easily accessible social sharing buttons.
With social sharing, your readers are able to pass your content to their friends and wider audience via various social channels.
Unlike paid advertising, social sharing is organic and can help you build social proof for your website.
Through repetitive sharing, you can upscale your viral marketing techniques and build massive brand awareness for your business.
To excel at this strategy, you need to make your content easy to share. Simply put, it should be at the click of a button. At ProfitFromTech, we're happy users of Social Snap, but alternatives are abundant.
However, keep in mind that placing social sharing buttons on your content isn't enough to incite social sharing. Content that sparks a viral loop needs to have clear calls to action that encourage users to share your content, send it to a friend, or comment on a page.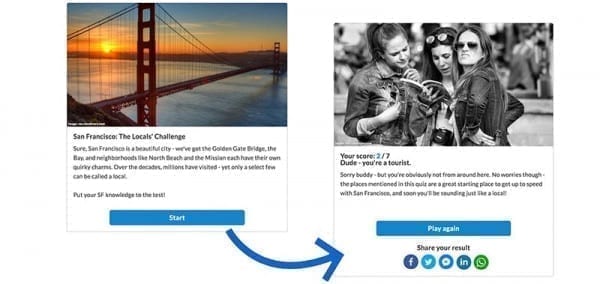 ✓ Use social sharing buttons to increase organic reach
✓ Place sharing buttons strategically on your website
✓ Have a clear call to action encouraging users to share your content
7. Keep it short and to the point
Short and targeted content has a higher potential to go viral than long-form articles.
The vast majority of viral content is short. Videos on platforms such as TikTok or Facebook tend to range from around 30 seconds to one minute. Anything longer and the viewer might lose their grip.
The same goes for blogs. Unless you're trying to create an ultimate guide filled with infographics, it is essential to keep your text format brief and neat. Humans have limited attention spans; so make your content 'scannable' with subheadings, bullet points, and images.
Long-form text, in comparison, has the competitive edge of being more contextual and informative for readers. It is, however, not the easiest way to create viral content. \
✓ Keep your content brief and to the point
✓ Informational content can be longer but its viral potential is limited
8. Evoke high-arousal emotions
Did you know that when a piece of content makes a reader or viewer feel a certain way, they are more likely to share it on social media?
It is natural for humans to be emotional. A study conducted on over 500,000 Facebook users, demonstrated that positive content is likely to receive more social shares than negative news.
A viral marketing campaign should be able to tap into the emotions of the targeted audience, with positive ones like joy and awe being the most desirable.
In the long run, your main goal, regardless of the strategy used, should be to develop a deep connection with your targeted audience.
Depending on your audience, building an emotional connection can take different dimensions.
Have a look at this video and learn a few basic concepts used by Edeka, a German chain retailer, to promote their brand using emotions.
Literally, the video is short, evokes emotions, creates brand awareness, and actually went viral, attracting over 66mln views as you would expect.
The deal with TV commercials is that they're primarily not designed to give you an overview and description of a product or service.
Rather, the actual intention is to spur the viewers' emotional intelligence so they can take a desired action such as making a purchase when the time comes.
✓ Aim to evoke emotions with your online content
✓ Focus on positive emotions such as joy and awe
✓ Use emotions to build a strong connection with your audience
9. Know your audience well
If you blindly post your content without a clearly defined audience, the goal to go viral could easily get thrown under the bus.
This part requires you to be a little more technical. You have to get to know yourself, the reader, or the customer, upfront, identify their pain points and adapt your offering accordingly.
Remember, you can only provide value when if you know what your audience truly cares about.
There are many ways to get to know your audience, including but not limited to:
Looking at

your

competitors

Creating a customer persona

Conducting surveys and focus groups

Monitoring website traffic via Google Analytics
When you determine the audience's interests right your viral content will thrive.
Just look at this video to get the hint.
The Dollar Shave Club Ad gives the audience a sensational feel of why their blade is the only tool you need to trim your beard.
You've probably noticed that the ad has a clearly defined audience and skilfully addresses all the shortcomings of the competing products. At the same time, the video is less than two minutes long yet the sales pitch is loud and engaging.
In 2016 The Dollar Shave Club reached a unicorn status and was sold to Unilever for $1bln. Much of its early success can be attributed to the above hyper-viral video, which cost only $4,500, took a single day to shoot, and was starred by the startup CEO himself.
With this nugget of video marketing gold, they took a boring topic and made it entertaining and worth sharing with a friend.
✓ Get to know your audience
✓ Find out how you can deliver value by creating better content or product
✓ Create an entertaining sales pitch addressing all identified pain points
10. Create interactive and personalized content
Sometimes listicles or how-to-articles just aren't enough anymore to make it big. Nowadays, one of the surest ways to create irresistibly share-worthy content and stand out from the crowd is to provide your audience with an interactive and personalized experience.
Naturally, such content will take more time and resources to produce, but especially younger, millennial audiences will appreciate the effort and reward you handsomely if done right.
Let's take Spotify's 'Wrapped' campaign as an example. Spotify's marketing really began to shine when it started incorporating users' collective data into its ads. Recently the music streaming service has built its whole end-of-the-year campaign around individual music tastes, favorite tunes, and artists.
And guess what?
The campaign went supernova-viral with more than 60 million users sharing and comparing their results with their friends. It's also been a massive hit on social media, with over 1.2mln mentions on Twitter.
You know that's true because you've probably seen pictures like the one below on your feed too.
However, you may say that in order to pull this off you need an infinite budget or an army of engineers at your disposal.
Well, not necessarily.
Try introducing quizzes in your marketing efforts. You can use a quiz builder tool to create interactive quizzes that captivate and delight your audience. Interactive quizzes are another guaranteed social media hit. In fact, as AdWeek points out, quizzes are the most shared content online.
11. Get your audience to create user-generated content
Getting ahead of the curve using paid advertisement has proven to be a very costly venture.
That's very user-generated content that comes in. UGC is meaningful especially if you want to build trust with your target audience in the B2C sector.
In fact, about 88 percent of consumers trust online reviews made by other users.
But where is the catch? There is none.
With this kind of social proof, you can endorse your products or services at cross-border levels.
For this strategy to work, however, we first need to identify our audience, alongside their preferred social networks.
And that's exactly how Daniel Wellington came about their immense success on Instagram.
The Swedish watchmaker, Daniel Wellington, can credit much of its considerable success to a series of Instagram marketing campaigns heavily leveraging user-generated content.
Daniel Wellington worked closely with influencers on Instagram to create a brand affinity with the target audience. Their objective was to create UGC that would frame a captivating and promising brand story to the wider target market.
The brand managed to optimize the brand awareness score, make the best use of branded hashtag campaigns, and drive sales using promotional codes.
12. Get influencers to promote your content
Viral content, in 2023, might seem like a hard thing to pull off without influencers.
Influencer marketing is an important part of social media marketing that allows you to drive an authentic conversation around your product offering, dramatically increase engagement and draw attention to your brand without talking to your target audience directly.
That being said, influencer marketing is only effective if you find the true experts in your niche.
13. Build up your momentum with paid advertising
Ideally, you can further optimize your content's virality through paid advertising.
Paid advertising is great if you want to sell something. But it's also great if you want to make a piece of content go viral and generate attention that way.
The best thing about paid advertising methods such as pay-per-click(PPC), social media ads, ad retargeting, and banner ads is the fact that they're instant, allowing you to create an initial buzz and momentum around your viral content.
Before you jump straight into paid ads, in order to avoid disappointment and low engagement rates, make sure you've created high-quality content and optimized all other possible aspects.
14. Use startup growth hacks
Like a startup, you need a blueprint to help you scale your business to the next level.
Growth hacks require innovation, skill, and strategy. In other words, you need to push beyond the noises and use your content to build a customer/reader acquisition and retention gameplan.
Many companies have used growth hacking to achieve their viral marketing goals. Dropbox rose to fame using a simple referral hack without spending a fortune on advertising.
If you're not sure where to start, you can borrow a few notes from this company's success story.
As a content marketer, to ensure long-term success, you need to focus on building an email list, and brand partnerships and setting up a robust referral program.
15. Share your content at the right time
The traffic you're looking to acquire, more or less, depends on the social timing formula.
So when is the right time to publish your blog post or share a meme on social media?
It's quite obvious that the best time to share your content is when your audience is highly likely to see and interact with it.
During high-activity hours, there is usually more traffic, but if your content isn't good enough, it might easily fly under the radar.
For social media posts, you probably need a calendar that is aligned with the algorithm preferences for various social platforms.
Each type of engagement has its best and worst days. So you need to be a little more analytical to find out what works best for your content marketing goals.
The Psychology of viral marketing
Digital marketing is getting more and more competitive and complex.
There are literally thousands of content creators hoping to go viral and quickly monetize the output of their work.
That is pretty easy if you're able to maneuver your content through winning over social media platforms.
While it might seem daunting, you should know that when the competition is stiff the reward is usually high too. Going viral even only once can very much pave the way to long-term success in your niche.
So, just to recap, in order to increase your chances of going viral you need to know your audience, create compelling copy and headlines, and think outside of the box in terms of engaging your audience in the promotional process.
If you have some cash on the side, you can pay for social media ads or opt to work with influencers in your niche to give your viral campaign an initial boost.
Also, don't forget to keep it short and visual.
These 15 tips should lead your content in the right direction toward viral success.
Are there any other viral content tricks we've missed? Feel free to drop them in the comments below.
Recommended Related Reading: