Looking for the best affiliate programs, but finding the right one seems like a nightmare? You've come to the right place.
When you're thinking about affiliate marketing, chances are you're hoping to wake up in the morning to something like this:

Passive income – the holy grail of financial independence.
The truth is that while affiliate marketing is far from being some kind of magic wand that will guarantee money rolling in, if done effectively, it can allow you to have a substantial stream of passive income.
In fact, Inc.com magazine predicts that in 2020 spend on affiliate marketing has risen to $6.8 billion in the U.S. alone.
Someone out there is capitalizing on that spend, right?
One of the perfect examples of an affiliate marketing success would be The Wirecutter – the internet's darling of consumer product reviews that quickly grew in popularity and after a few successful years of generating substantial profits was acquired by The New York Times in 2016 for more than $30mln. However, The Wirecutter is not an exception. There are numerous examples of affiliate websites being sold for seven figures or more.
If that doesn't smell like an opportunity, we don't know what does.
This list includes over 100+ affiliate programs in our favorite software-related categories such as web hosting, eCommerce platforms & website builders, VPNs, as well as other popular niches like fashion, beauty, sports, music, among others.
We've vetted every program in this guide and believe they are the best for generating affiliate revenue for various reasons, which will cover later in the post, so stay with us!
But first – what exactly is an affiliate program?
What is an Affiliate Program?
Simply put, an affiliate program is an agreement in which the company running the program is incentivizing another business or influencer (the "affiliate") to send them referral traffic in exchange for commission payouts.
It is one of the most common ways for brands to extend their reach and attract new customers because of the full alignment of incentives between merchants and affiliates.
Most of the companies allow you to sign up for the affiliate program straight from their website.
Usually when a company has an affiliate program you can find a link to it within their website footer. This link could send you directly to the sign up page for the program on the specific affiliate network they run on or an initial landing page diving into more detail about becoming an affiliate for that merchant.
Once you've created the affiliate account, the process usually works by placing a unique, trackable link (an "affiliate link") on your blog or social media channel, which takes the visitor who clicks on it straight to the merchant's website.
While the process of promoting affiliate products is more or less the same across various merchants, the ways commissions are awarded vary significantly.
Some affiliate programs offer a commission to the affiliate only after a customer completes a purchase, while other merchants already reward for getting the visitor to sign up for a free trial or email list.
Besides that, there are also significant differences between affiliate programs when it comes to commission rates. Thus, we've created this list of the best affiliate programs to guide you through what's available out there and the most critical factors in choosing the program tailored to your needs.
Just to give you a quick overview, there are three main types of rewards in affiliate marketing:
Percentage of Sales: This is by far, the most common type of rewarding the affiliate. In this case, you will receive a set percentage of the sales whenever the customer clicks on your link and completes a purchase on the merchant's website.
Commission: Many affiliate programs choose to compensate the affiliate with a one-time fixed payout based on the value of the service or product the customer purchased.
Free Product: Fairly popular reward among beauty influencers and refer-a-friend programs. Instead of a cash payout, you receive a free product sample or subscription plan upgrade. While still attractive, it doesn't translate into building a steady income from affiliate marketing, so you won't find any of those programs on our list.
Now that we've got the introduction to affiliate marketing covered, it's time to explore over 100 affiliate programs that pay the highest commissions in 2023.
While the information is considered to be true and correct at the date of publication, changes in partner terms after the time of publication may impact on the accuracy of the presented affiliate commissions and payout structures.
Best Web Hosting Affiliate Programs
Web hosting is probably the most popular affiliate marketing category out there. Every site, however big or small, needs hosting. Therefore, pretty much every affiliate writing about digital marketing, blogging, or online business will likely end up promoting web hosting services first.
When it comes to picking the best web hosting affiliate program, you have to be careful. Don't just choose the one that offers the highest commission; pick the one that is fast, reliable, and well known for its high-quality support.
Additionally, since people rarely move from one hosting provider to another, the customer retention rates remain at very high levels. As a result, merchants often offer attractive commissions on promoted plans making web hosting niche a highly lucrative one for the affiliates.
Ultimately, thanks to the essential nature paired with high commissions, web hosting companies provide some of the best affiliate programs, which is why we placed them at the top of our list.
Here are our top picks for the web hosting affiliate programs:
Cloudways is a managed hosting platform focused on providing high-performance services to growing teams and smaller businesses. Cloudways' affiliate program offers two attractive commission structures allowing the affiliate to customize payout based on personal preferences.
Commission Rate: Cloudways offers two commission pathways. Affiliates can choose between larger, fixed one-time starting at $50/sale up to 150$ depending on sales volumes and "hybrid" option, which includes a $30 commission for the sale plus a 7% lifetime commission.
Cookie Life: 90 days
Bluehost is one of the world's 20 largest web hosting companies, jointly hosting over 2 million domains with its sister companies, HostGator, Page, and FastDomain. The Bluehost affiliate program is top-rated in the web hosting niche. With their plans starting at as low as $2.95/month and one-time payouts starting at $65+, you'll enjoy high conversion rates and commissions. The company has paid out more than $5 million in commissions in 2019 alone, making it one of the most handsomely paying affiliate programs in the web hosting space.
Commission Rate: $65/sale for starters. Commission rate increases up to $130/sale based on the volume of referred sales.
Cookie Life: 60 days
HostGator is a well-established shared web hosting provider, hosting over 8 million websites on their servers. It offers an attractive, flexible commissions structure, co-branded landing pages, and various special offers.
Commission Rate: Starting at $65 for the first 1-5 sales and increases as more purchases are made up to $100. You can choose between a performance-based or a hybrid commission model that additionally offers small recurring payments.
Cookie Life: 60 days
Hostinger is another popular web hosting platform that can offer affiliates up to $150 per sale on a tiered pricing structure.
Their affiliate partner program offers a base payout of around $60, with the opportunity to make up to $150. And since their small business and WordPress plans have a 90% discount and start at $0.99/month, they boast excellent conversion rates.
Like many other web hosts, they provide banners and promotional tools to help new affiliates get started. Finally, there are no payment caps, and you can send unlimited referrals.
Commission Rate: Minimum commission rate of 60%
Cookie Life: Info not provided
Kinsta offers the best cloud-based hosting for WordPress bloggers, hands down (they power our website). Utilizing Google Cloud and LXD orchestrated Linux containers under the hood at their data centers around the world, Kinsta is widely considered to be one of the best managed hosting providers available for bloggers. The company has a reputation of providing lightning fast hosting, SSL support via Let's Encrypt for added protection, optimized backups and hassle-free migration amongst many other features.
Commission Rate: Earn up to $500 for every referral (depending upon plan value) + 10% monthly recurring lifetime commissions
Cookie Life: 60 days
Another giant in the web hosting space, WP Engine has been around since 2010 when they launched into the industry as a premium-positioned WordPress hosting provider that focused on the niche of selling lightning fast hosting plans to established bloggers, businesses and companies that need reliable hosting. They've also got one of the best affiliate programs on the market for bloggers that cover web hosting related topics.
Commission Rate: $200 minimum commissions for WP Engine sales and 35% of StudioPress theme sales.
Cookie Life: 180 days
Best VPN Affiliate Programs
VPN usage surged 27.1% during the pandemic and the market is steadily growing year over year. Due to this technology's exploding popularity, all different types of affiliate sites can recommend setting up a private internet connection to their readers.
Most of us use a VPN to secure our internet on public WiFi, stream Netflix when we're traveling abroad and so on.
Since these companies charge a recurring fee to use their online services, affiliates typically receive a recurring payment or large one-time payout for users after signing up. It's one of the most popular affiliate categories and there are plenty of great programs to join.
Here are our top picks for the VPN affiliate programs:
NordVPN's commissions are based on the subscription plan ordered by the customer, including 100% at one month, and 40% for 6 months, one year, and two-year plans. They also have strong conversion rates and dedicated account managers to help you drive sales.
Commission Rate: For 1 month, new sign up is 100% and renewal is 30%. For 6 months, new sign up is 40% and renewal is 30%. For 1 year, new sign up is 40% and renewal is 30%. For 2 years, new is 40% and renewal is 30%
Cookie Life: 30 days
IPVanish is one of the best VPN services on the market and boasts some of the best payouts in the VPN industry.
Commission Rate: 35% of all subscription renewals and up to 100% of sales generated.
Cookie Life: 30 days
Founded in 2009, ExpressVPN is one of the most popular options for users looking to protect their privacy online. They offer high one-time payouts based on the plan a user signs up for: 1 month is $13, 6 months is $22, and 12 months is $36.
Commission Rate: Between $13 and $36
Cookie Life: 90 days
PureVPN has one of the most fun programs, with contests, a reward system, and custom notifications letting you know when you've made a sale. Similar to others on this list, they offer 100% for month one and 40% for longer plans.
Commission Rate: Average of 40% rate, plus a 35% recurring payment.
Cookie Life: 90 day cookies
StrongVPN has been around since 2006 and has a popular affiliate program. They pay every month and offer up to a 200% payout for sales generated.
Commission Rate: Up to 200% commissions
Cookie Life: 30 days
Best Website Builder Affiliate Programs
After web hosting as the most popular affiliate category, website builders like Wix and Squarespace and e-commerce platforms like BigCommerce and Shopify are a close second when it comes to digital products. As the first step bloggers take to create a website is choosing a web host; the same is true for business owners looking to build a website.
Plus, because paying customers may stay for 24-36 months, and they have a high lifetime value (LTV), SaaS companies can afford to pay higher than 100% of the monthly sale price.
Here are our top picks for the website affiliate programs:
Shopify is the world's most popular eCommerce website builder, boasting 400,000 merchants and a substantial 200% commission on paid stores. With their name recognition comes stable conversion rates. Plus, their website features helpful affiliate FAQs and promotion ideas.
Commission Rate: 2x 100% commission on the first and second payment of each referred paid plan. In this case, the Basic Shopify plan will let you earn $58 ($29/month x 2 = $58). The exception is the Shopify Plus plan, where the affiliate earns a flat rate of $2,000 per conversion. In some countries, Shopify increases the payout to 300%.
Cookie Life: 30 days
Pros:
Pays high commission rates.
The payout threshold is just one sale.
You get a full-time affiliate marketing manager.
Publishers can create links for tracking purposes.
The affiliate portal is user-friendly and easy to navigate.
Cons:
Deep linking is available but is a bit disorganized.
A 30-day cookie is satisfactory but a longer cookie (45 to 90-day) would be nicer.
BigCommerce is a SaaS e-commerce platform with over 60,000 merchants. They are known as the e-commerce platform of choice for growing brands because of their built-in features and advanced functionality.
Commission Rate: Generous 200% bounty payment on the plan's price, meaning you can earn either $60, $160, $250, or $1,500 per paying customer.
Cookie Life: 90 days
Pros:
High commissions
Provide banners and text links
Dedicated account manager
Weekly affiliate newsletter with content templates and SEO advice
Cons:
A tier-based commission system is hard to get at first

Moving up tiers hasn't been systematized
Wix is another high-quality website builder with an insane 100 million users. They provide their affiliates with $100 per sale and feature a lot of great landing pages to use in multiple languages.
Wix also hosts over 160 million websites and has over 100 custom templates you can pick and choose. Their range of layouts is perfect for small businesses, restaurants, and artist websites.
Commission Rate: $100 per sale
Cookie Life: 30 days
Pros:
$100 per premium referral
An abundance of creative resources
Premium membership models fit a variety of customers
Cons:
The monthly payout threshold is $300
One-time payout. Not-recurring affiliate revenues.
Like many other earlier mentioned platforms, Pixpa makes it easy to create a website without a single line of code. Pixpa was created in mind with creative professionals and its functionalities work particularly well for photographers and artists.
Pixpa's Affiliate Program is aimed at website owners, bloggers, and influencers who can direct genuine and targeted traffic through their website, social media, email list, or offline networks.
Commission Rate: 50% share of the first-year revenue; up to $144 per referral
Cookie Life: 30 days
Pros:
No minimum payout amount requirements
Custom affiliate dashboard with key metrics
Wider range of pre-made creatives and resources
Cons:
Payouts only via PayPal
Revenue-share only during the first year
Shift4Shop is a fast-growing eCommerce platform that hosts its own program and offers a 300% commission for paid conversions. They boast reliable conversion rates and have accommodating Affiliate Managers that lend a helping hand.
Commission Rate: Up to 300% per sale
Cookie Life: 120 days
Pros:
Generous commission
Access to marketing content
Very long cookie duration
Bonuses and incentives
Cons:
Need for outside analytics for more reporting features
The base platform isn't very robust and requires multiple add-ons
Weebly is a simple website builder with an impressive 40 million+ users. It is not the most advanced website builder, but its drag and drop interface makes it very easy to build a quick website. They offer a 30% recurring commission for as long as the customer is active, and feature a generous 120-day cookie window.
Commission Rate: 30% recurring commission
Cookie Life: 120 days
Pros:
Intuitive and easy to use dashboard
You earn the $25 equivalent per referral (GBP and EURO is higher)
Add-on and app integration
Cons:
Only one referral link can be linked per person
You earn the $25 equivalent per referral (for CAD and AUD, it's lower)
Cluttered layout
Site123 is another famous website builder that allows you to create mobile-friendly websites with a lot of templates to choose from and a simple user interface. Their affiliate program provides up to $182 payouts, and you can only withdraw your funds after you receive $300 of commissions.
Commission Rate: up to $182
Cookie Life: 30 days
Pros:
Big commissions for every conversion
Fast and easy withdrawal structure
No intermediary fees
Cons:
Moderately high withdrawal threshold
Only withdrawal through PayPal
Ads are everywhere on the platform
The Webflow affiliate program is designed for influencers, educators, bloggers, and others to get paid for the designers and developers they refer to Webflow.
Once you sign up, you'll enter an intuitive dashboard from Partnerstack that will house all you need to know about your affiliate link. This dashboard includes all your traffic, conversions, and payments.
Commission Rate: 50% of all payments for 12 months
Cookie Life: 90 days
Pros:
You get an in-house navigation dashboard
You can promote through display advertising
Comprehensive affiliate marketing product guidelines
Ecommerce support and Flexbot support
Cons:
Requires PayPal and Stripe account to receive payment
No live chat or phone support for affiliate program
Best Email Marketing Affiliate Programs
Here are our top picks for the email marketing affiliate programs:
Constant Contact is a leader when it comes to email marketing. These days email marketing is essential for bloggers, social media influencers or affiliate marketers. Constant Contact helps you to create using beautiful templates, share with your list and track real-time stats. The best part about Constant Contact is that also allows you to earn a decent amount via their affiliate program.
Commission Rate: Payouts start at $5 for every customer who signed up for a free 60 days trial. You also get $105 commission from a direct paying customers. If the free trial customer upgrades subscription, then you are eligible to receive an additional $105.
Cookie Life: 90 days
Pros:
Track referrals to see how much commission you'll earn
Provided with market-tested assets for ads and banners
Personalized support and advice from support specialists
Cons:
Strict disclosure requirements and authentic reviews
Monthly payment scheme through check wire or Wise
Payment could take up to 90 days because of the return policy
GetResponse claims to be "the world's easiest all-in-one online marketing platform." It offers marketing automation, sales funnels, eCommerce, landing page tools, opt-in forms, webinar software, customer relationship management (CRM), surveys, and ad banner builders.
GetResponse has two affiliate programs that anyone can join. Its self-hosted program uses proprietary affiliate tracking software while the other program is on the CJ Affiliate network.
Commission Rate: Affiliates can earn excellent recurring and one-time commissions. The self-hosted program pays a 33 percent recurring commission. The recurring payout will last for as long as the user remains a paying customer. If the customer upgrades to a higher-priced plan, your commission will increase. The CJ Affiliate program pays $135 for every sale.
Cookie Life: Both programs have 120-day cookies
Pros:
Highly informative affiliate landing page
Can earn recurring and one-time commissions
Deep linking is available
Cons:
Bounty Program commission pays 60 to 75 days from the time of referral
No free account plans to hook consumers in unlike other email marketing sites
Different locking commission periods for each program
ActiveCampaign is an email marketing automation and CRM tool that has been around since 2003. However, it has made a name for itself over the last few years mainly on the back of its highly impressive marketing automation features.
Active Campaign serves any business that deals in the online landscape—namely eCommerce stores, B2C companies, and B2B companies. With easy targeted messages and newsletters sent out on each campaign, Active Campaign is one of the most reliant email marketing platforms out there.
Commission Rate: Starting at 20% and increasing up to 30% recurring commission on referrals.
Cookie Life: No info provided
Pros:
Immediately gain a link upon sign up and use it
Evergreen affiliate webinars to help you set up a funnel
A clean dashboard to track conversions and progress
Cons:
Only earn commission from paid accounts
Commissions don't get released until after 60 days have passed
Aweber is an email marketing software that is great for businesses and marketing teams because of their email templates and design features. They offer a 30% recurring rate.
They help entrepreneurs and eCommerce owners scale businesses with their email automation services. Aweber is one of the most well-established and reputable email marketing platforms you can find.
Commission Rate: You can earn 30% recurring payments each month for the referred account's entire lifetime. For five referrals in a one-year plan for $19.99/month with Aweber, you can get $360/year.
Cookie Life: 365 days.
Pros:
Monthly payment release
30% recurring commissions
Instant affiliate approval
Custom tracking link
Cons:
Minimum payout threshold of $30
Restricted to PayPal as the sole payment option
ConvertKit is one of the hottest email marketing providers that offer automation capabilities developed specifically for bloggers & creatives. The subscription-based service is focused on bloggers, small businesses, and podcasters who are looking to simplify their email marketing process. ConvertKit simplifies the process of capturing more leads and selling more of your products.
Commission Rate: Recurring 30% commission for the lifetime of each customer you refer (paid monthly)
Cookie Life: 60 days
Pros:
No threshold to meet in order to get paid
30% monthly recurring commission (this is huge)
Personalized overview dashboard gives you all the details on your earnings
Cons:
30-day delay on commission payments
Best SEO Tools Affiliate Programs
Here are our top picks for the SEO tools affiliate programs:
SEMrush is a trusted source for SEO tools that help online businesses and marketers with their keyword research, tracking and search engine optimization. The tools offered by SEMrush come highly recommended for improving the ranking of your website by doing more effective keyword research. Their affiliate program is a great option for bloggers to earn a recurring income via BeRush (SEMRush's exclusive affiliate program).
Commission Rate: 40%
Cookie Life: 10 years
Pros:
Variety of promo materials in 7 languages
Each month the BeRush team runs the BeRush Contest where participants can win up to $100 for the best content
Commission payments made up to twice a month
Exclusive promotional rights to one of the world's leading competitive intelligence services
Cons:
Account balance needs to reach $50 or more to get paid
No payments are made for referring existing or returning SEMrush users
This affiliate program can be extremely beneficial to Serpstat subscribers. For affiliates who want to pay for the paid plan from their affiliate program's earnings, Serpstat multiplies the money in their accounts by 1.5.
Cookie Life: No info provided
Commission: Up to 30% commission per first and recurring sales.
The more people you refer, the higher your commissions will be. Here are 4 tiers of the Serpstat affiliate program:
1-2 payment – 5% commission;
3-9 payments – 10% commission;
10-19 payments – 20% commission;
20 payments and more – 30% commission.
Affiliates can withdraw their money via Webmoney or PayPal.
Pros:
Recurring payment scheme
The more payments, the higher your cut (up to 30%)
Cons:
Minimum payout threshold of $50
Once a month payment release
Need to sign up to browse the affiliate page
SE Ranking is a leading cloud-based SEO software like SEMRush or Serpstat. The platform allows the user to track keyword rankings, run site audits, analyze traffic, monitor backlinks, and much more. Coming to SE Ranking affiliate program, you can earn unlimited recurring income by referring customers. Thanks to the 14-day free trial, affiliate conversions remain at relatively high levels.
Commission: 30% lifetime commission.
Cookie Life: 120 days
Pros:
Track statistics of sales and transactions
Three payment methods: Paypal, Webmoney, and SE Ranking balance
Twice a month payout
Cons:
Can't advertise via paid advertisements
Minimum payment threshold of $50
Mangools is another keyword research tool trusted by many SEO professionals. It's a 5-in-1 tool that makes SEO approachable for marketers and entrepreneurs thanks to its great UI. With Mangools, you can find keywords, see SERPs of any location, track rankings, find backlinks, and check competitor's website authority. It's a much cheaper alternative to SEMRush and Ahrefs too.
Commission: 30% lifetime commission.
Cookie Life: 30 days
You don't need to pass any approval process to become a Mangools affiliate. Every user with a free or paid account automatically gets access to the affiliate section and highly engaging promo materials.
Pros:
It's a single-tier affiliate program
Creative assets include links, banners, and tool widgets
Commissions received on a recurring monthly basis
Cons:
The minimum payout threshold is high — at $150
Each referral is just $10 to $24 depending on the plan
Paypal as an only payout method
Grammarly is maybe not an SEO tool per se but it's one of the best grammar and punctuation checker tools out there, making it a crucial tool to rank well. And it has a very lucrative affiliate as well which pays a decent referral income for every lead you send them.
If you're looking for the best cost per action (CPA) or pay per lead affiliate program for your blog that converts well, the Grammarly referral program is your thing.
Commission Rate: 14% or flat $20 per sale commission ($50 minimum payout)
Cookie Life: 90 days
Pros:
$0.20 for every free signup
$20 for free to a premium subscription
Payment is made through bank transfer or check
If you make over $2000 affiliating through Grammarly, make $200 more!
Cons:
The minimum monthly payout threshold is $50 (or 3 subscriptions)
Not the highest payout scheme per referral SEO tool
Best WordPress Affiliate Programs
Here are our top picks for the WordPress affiliate programs:
Elementor is known for its extremely useful WordPress page builder. The Elementor page builder allows users to use drag and drop features in WordPress. It also gives the user the opportunity to see what their pages and blog posts look like before hitting "publish."
Elementor offers a free version of their page builder, but the paid versions include advanced widgets, a theme builder, a popup builder, a WooCommerce builder, and many other features.
Commission Rate: 50% per sale
Cookie Life: 30 days
Pros:
Free to use
Variety of logos and banners to choose from
No limit on what you can make
Cons:
Must meet a $200 threshold to be paid
Shorter cookie life than some programs
Must wait 30+ days to receive a payment
Themes: Elegant Themes has 87 unique and beautiful themes available to customers to choose from. Each is designed by expert programmers looking to give you not only an engaging and dynamic website but also an easy to use interface from the back end with different drag and drop page builder options.
Plugins: Although Elegant Themes specialty is in creating beautiful themes, the great thing is that they offer users with incredible plugins to compliment those themes and make them even greater! Some of their best plugins include the Divi Builder which allows you the ability to drag and drop pieces on your website to make building your page so much easier. There are email opt in plugins, and amazing social media sharing plugins to help users find you and share your posts even easier
Commission Rate: 50% lifetime reoccurring commission
Cookie Life: 6 months
Pros:
50% lifetime reoccurring commission is by far the best part of Elegant Themes.
Very generous cookie life
There is a great support system including live-chat 24 hours a day and a user-friendly interface both from the customer perspective and also from the affiliate portal perspective.
Cons:
While Elegant Themes has beautiful themes and amazing plugins, often times customers want an all in one site that includes web hosting and themes/plugins all in one company.
WP Rocket is a performance-optimizing and caching plugin that improves your WordPress site by speeding up loading times. There are countless free and paid WordPress caching plugins for you to choose from, but WP Rocket is known to have the best user-friendliness and the most helpful features out there, like Lazy Load. It also has database optimization for your website to be fast and light.
Commission Rate: Affiliates earn 20% commission per sale.
Cookie Life: 30 days
Pros:
Contact an in-house affiliate team for personalized tips and best practices
Gain access to an affiliate kit — including logos, screenshots, text links, and banners for your site.
Can receive frequent promotions before publishing campaigns.
Cons:
Alter your creatives when marketing WP Rocket
Can't market on deals and coupons websites.
Short Pixel is an image compressing and optimizing API and WordPress plugin designed to improve your WordPress website's loading times. It's easy to use, lightweight, and compresses image files or PDF documents in a single click. With this plugin installed, any new image gets automatically rescaled and optimized automatically and in a hassle-free way.
Commission Rate: Affiliates will receive 30% of all new sales (including recurring income) generated through your unique links.
Cookie Life: 30 days
Pros:
Accepts everyone — big and small partners
After registration, you can track referral links and their total earnings, leads and conversions
30% commission includes recurring subscriptions
Cons:
Minimum payment threshold of $100
The commission is paid after 30 days once the threshold is met
Payments are received through Paypal only. Other means are possible for payments above $500.
OptinMonster generates more leads, subscribers, and sales for you straight from your website's traffic. Over 1.2 million websites use OptinMonster for lead generation, including big names like Patreon, McAfee, and Pinterest. They do this by providing subscribers ready-made templates, personalized targeting for automation, and split testing to find the best way to maximize conversions.
Commission Rate: 20% commission on every sale from the referral link — up to $118 per sale.
Cookie Life: Undisclosed
Pros:
Earn a minimum of $21.60 per sale to $118 per sale
Plenty of payment options, including ACH, wire transfer, and check.
Cons:
Must have a minimum of 37 days of activity in profile to earn a commission.
Monthly payment once you reach the payment threshold of $100
Monster Insights is a powerful and user-friendly Google Analytics plugin for WordPress sites. It's also the most powerful Google Analytics plugin you can find anywhere, sitting at around 3 million active installations. This plugin helps you track and see how your website is performing with its cutting-edge features. This includes real-time stats, universal tracking, page-level analytics, and enhanced eCommerce tracking.
Commission Rate: 20% commission on every sale.
Cookie Life: Undisclosed
Pros:
Clear commission structure visible to you on the page
Plenty of payment options, including ACH, wire transfer, and check.
Cons:
Must have a minimum of 37 days of activity in profile to earn a commission.
Monthly payment structure
There's not a lot to say about the Refer WordPress program. It pays only 20% of any referral purchases, but it counts for anyone who pays for a product from JetPack, WordPress.com, or WooCommerce. And that's where the money is at. WooCommerce runs more WP-based stores than any other product, and their extensions are often around $200 each. With a 20% affiliate rate, you're making $40 per extension sale, and most people need at least one premium extension to really run their stores. And since it's the offical WordPress referral network, you can trust it. On top of all that, the WordPress.com platform has recently moved into a more managed hosting-style business model, so you could see some relatively decent checks come your way.
Commission Rate: 20% of Jetpack, WooCommerce, and WP.com sales
Cookie Life: Undisclosed
Pros:
See your referral earnings easily at Dashboard < Earnings.
An all-in-one referral gallery to earn sales (JetPack, WordPress.com, and WooCommerce)
Cons:
Affiliates who have less than $100 in rewards accrued will be promptly deleted from the program.
Extremely tight competition and hard to get into
The only payout is through PayPal
Best Design & Creative Tools Affiliate Programs
Here are our top picks for the creative tools affiliate programs:
Adobe is a US-based multinational design software company that offers a suite of creative and multimedia products. With a revenue-generating capacity of $9.03 billion, it's easy to see why joining Adobe's Affiliate Program is an attractive opportunity for many budding bloggers. Currently, bloggers can promote Adobe products like their Adobe Creative Cloud (which includes Photoshop, Illustrator & InDesign, all useful tools for crafting the perfect blog layout), Adobe Stock, and Adobe Document Cloud to earn commissions.
Commission Rate:
Monthly subscriptions: 85% of first month
Yearly subscriptions (monthly payment) provide: 85% of first month
Yearly subscriptions (one-time payment) provide: 8.33% of first year
Cookie Life:
Pros:
Access to a comprehensive selection of ready-to-publish marketing banners and text links
Up-to-date information on new product launches
Regular and exclusive promotions for added income
Dedicated Adobe Affiliates dashboard
Deep linking opportunities
Cons:
Document cloud and Stock are only available to promote in specific countries
Corel is a professional, all-in-one suite for creating layouts, vector illustration, photo editing, and more. It's a creative tool that aids marketing and advertising teams to develop print advertising development. Aside from that, this suite also serves working professionals in the creation of newsletters, business cards, and brochures with graphic design and special effect tools.
Commission Rate: Start earning at 10% commission
Cookie Life: 90 days
Pros:
No earning cap once you start referring people
Easy integration, no software to install
Trustworthy third-party tracking with Commission Junction
Cons:
Low industry commission rate percentage (10%)
Commission Junction sales structure is only available in the US, Canada and Latin America.
Canva is a drag-and-drop designing tool that helps weed out the fuss and technical aspects of graphic design. It provides beautiful, simple templates, reaching thousands, with customizable features and layouts that can service any business — from budding startups to social media sites of multi-million dollar companies.
Commission Rate: $36 for each new Pro Canva Subscriber
Cookie Life: 30 days
Pros:
18 million users use Canva
Flexible payment options with Paypal or e-transfer
Regular payment
A dashboard that shows earned and awaiting payments
Priority and live chat support
Cons:
99 Designs is a freelancer platform that specializes in connecting graphic designers with clients. Founded in Melbourne, Australia, this platform houses a catalog of specialists that can create logos, business cards, t-shirts, websites, and more for any prospecting client. It's also a hub where freelance graphic designers look to get gigs, win full-time jobs, and establish relationships with clients.
Commission Rate: Begin with a $60 commission for every new contest customer. Once you bring in more than 25 sales, upgrade to $80 commission. With 50 lifetime sales, upgrade to the highest tier of $100 per commission.
Cookie Life: Uses 1-click attribution (undisclosed lifetime)
Pros:
Affiliate support team to give you personalized tips
Comes with a tracking dashboard
Earn uncapped commissions
Cons:
99 Designs' model received flak for ease in stealing designs
Race to the bottom for competing designers
Best Online Education Affiliate Programs
Here are our top picks for the online education affiliate programs:
Udemy is another extremely popular online learning platform, potentially even the largest in the world. Aimed at both adults and students, this platform has more than 30 million students and 50,000 instructors that teach courses in over 60 different languages. With over 245 million course enrollments so far, Udemy's affiliate program is an attractive choice for those who have educational blogs. The program is hosted on Rakuten LinkShare and is periodically available on other affiliate networks.
Commission Rate: 15%
Cookie Life: 7 days
Pros:
Thousands of available classes to promote on virtually ever topic imaginable (with hundreds of pre-designed banners)
Deep linking opportunities
Over 100+ sub-categories
Promotional assets and tools available to help you drive sales
Cons:
Low commissions
Relatively high payout threshold ($50 minimum)
Their affiliate program landing page and description could use some love
Coursera is a learning program that delivers quality education from up to 200 universities around the world. These courses help students and life-long learners by providing flexible, affordable, job-relevant offerings that help them upskill and reskill for their future careers and themselves. Over 82 million learners around the world use Coursera to build their skills and confidence.
Commission Rate: Earn anywhere between 10 to 45% commission on 4,000+ courses.
Cookie Life: Undisclosed
Pros:
Receive commission even if the user purchases a different course, as long as it's in the same cookie window
Earn multiple times for an individual user
Comes with Clean, professionally designed Coursera banners for your website
Linkshare tracking links for tracking referral link analytics
Cons:
Payout is released only on the first month (no recurring payments)
Can earn only 10% commission on some courses
Skillshare is an online learning website taught by experts and professionals that has thousands of creative classes, all with the intent of helping you learn new skills. You can learn almost anything on this platform: some include knitting, cooking, writing, analytics, photography, and graphic design. Millions of people learn from SkillShare and use it to level up their knowledge and skills to become better at what they do.
Commission Rate: Earn $7 for every new customer you refer to Skillshare
Cookie Life: 30-day cookie
Pros:
Trial signups count as a customer referred
Free to anybody who has an audience aligned with Skillshare's brand
$7 per new user is great for big channels
Cons:
Receive payouts once a month — at the 16th of each month for the previous month's referrals
Lots of competition in YouTube
$7 referral isn't too much for smaller publishers
TreeHouse makes learning at home fun. You can learn how to code, design, and more with video courses that you can watch at your own time on this platform. Some of their offerings include a "100 Days of Code" program, which sends daily email instructions and podcasts that will transform your coding knowledge; and networking opportunities to connect with TreeHouse students in the lively and supportive forum.
Commission Rate: $10 for every free trial sign up; 50% commission on for paid subscription without a free trial
Cookie Life: 30 days for free trial sign up; 45 days paid subscription plan
Pros:
Unlimited sales commissions
Gain the support of a dedicated affiliate manager
Get creative assets and tools to aid you in promoting TreeHouse
Get paid daily through bank
Cons:
A narrow audience
Stiff competition with other popular e-platforms having more courses
Linkedin Learning is an online learning platform that gives you complete access to expert-led course videos. The courses in this platform help you develop business, technology-related, and creative skills that you can include in your LinkedIn profile once you've completed them. Many courses are equipped with final tests and exercises as well as video transcripts to make the most out of your learning experience.
Commission Rate: $40 per month subscription or 35 percent of the sale from a standalone (individual course) purchase.
Cookie Life: 30-day cookie
Pros:
A dedicated affiliate program team
Access to banners, text links, and free trial offers
Access to a wide audience — many people are on LinkedIn!
Cons:
Stiff competition with vastly more resources in SkillShare and Coursera
LinkedIn members are savvy professionals that already know the ins and outs of their career
Best SaaS Affiliate Programs
Tagembed is a social media aggregator that provides online brands and marketers with website widgets for upscaling their marketing efforts by boosting their websites' engagement and gathering more sales & conversions via social media feeds and interactive social embeds. This affiliate program is particularly attractive given potentially high retention rates of user who have already implemented their widgets and are happy with the results, ultimately boosting your affiliate earnings.
Commission Rate: 30% lifetime recurring earning for all active subscriptions
Cookie Life: Undisclosed
Pros:
Payment with a bank transfer or PayPal
Using FirstPromoter for the affiliate dashboard functionalities
Uncapped earning potential
Cons:
No details on the payout minimums or cookie life
Leadjet lets you connect your CRM to LinkedIn through a browser extension. Create and enrich contacts, find qualified emails, and synchronize LinkedIn conversations – directly from your prospect's LinkedIn profile to your CRM in one-click. Stop wasting time on manual lead capturing and data entry. Integrating with Leadjet means 4x faster sourcing.
Commission Rate: 20% lifetime recurring earning for all active subscriptions
Cookie Life: 30 days
Pros:
No minimal threshold to be paid
No cap at the earnings
High retention rates of existing customers
Cons:
Leadjet is a growing brand so marketing the service might be slightly

more challenging
Planable is an end-to-end social media content workflow management tool. Planable's platform is specifically tailored to the small social media teams. With features such as tagging and content feedback in real-time, Planable enables your startup team to bring all your social media-related communication under one roof, ultimately simplifying social marketing collaboration.
Commission Rate: 20% for the first 6 months of their active subscriptions
Cookie Life: 30 days
Pros:
Must meet only a $50 threshold to be paid
Cons:
You can earn a maximum of $300 in rewards from a valid referral.

Payment processing can take up to 30 days from the requested date.
Shift is a workstation platform that helps streamline your apps, accounts, and workflows. It's a logical tool that doesn't compromise in its simple and minimalist design. Shift allows you to access multiple Google and Microsoft accounts, connects you with apps, and focuses with Workspaces. It removes the chaos.
Commission Rate: 30% commission on sales for Gold commission; 20% on Bronze; 25% on Silver
Cookie Life: 90 days
Pros:
You can earn up to $50 USD for creating your own specific promotional material
Affiliates are well-known brands like HubSpot and Facebook
Helps you with tools and resources to promote Shift
Cons:
Once a month payout
PayPal or Stripe only (ask if you're from a specific region)
Monday.com is a project management software platform that makes collaborating, organizing, and working with your team easier. You can manage any detail of their work, from enterprise-level projects to inter-department tasks. It's designed to make working with teams easier and more intuitive so that you can get your job done more efficiently.
Commission Rate: Up to 100% commission on the first year's sales of each customer
Cookie Life: 90 days
Pros:
Free account to test out features
Offers real time performance statistics
Connect with marketing experts
Cons:
Expensive pricing model
Lack of idea management features can turn off buyers
PayPal or Stripe withdrawal only
Best Online Job Site Affiliate Programs
Here are our top picks for the online job site affiliate programs:
Fiverr is the largest freelance services marketplace fathering millions of creatives, consultants, and freelance specialists. By signing up for the Fiverr affiliate program, you gain a chance to promote the world's biggest marketplace for online services. From writing and logo design to programming and business services, the options are endless.
Commission Rate: $15-$150 CPA for every first-time buyer or up to $1,000 per sale
Cookie Life: 30 days
Pros:
Popular as over 5.5M people use Fiverr
Online businesses are on the uptrend
You won't be restricted with Fiverr
Cons:
Can't use PPC ads and FB ads to promote Fiverr
Won't earn commission from referring sellers
FlexJobs is the #1 job-hunting platform where job-hunters can seek for work-from-home jobs that replace offices. Operating since 2007, FlexJobs has helped over millions connect with recruiters and secure the job of their dreams for an affordable price. Their affiliate program is also hosted through CJ, one of the leading affiliate platforms, so you know you're in safe hands.
Commission Rate: $7-$10 paid for every new subscriber
Cookie Life: at least 30 days
Pros:
Companies who hire include Apple, Dell, Hilton, and Xerox
No fee cut off unlike Upwork (20%) or Fiverr.
Cons:
Paid pricing model is a major turnoff
Competition like Upwork or Fiverr also have affiliate program plans
Similar to Fiverr and Upwork, SolidGigs is a freelancing platform to help connect freelancers with clients. It's created to solve issues many freelancers face. Namely, low access to work opportunities and lack of individual exposure. It scours the web to find the best freelancing jobs, secures you leads through an email newsletter, and improves your business. Best of all? It's only $19 a month, forever.
Commission Rate: 35% commission rate
Cookie Life: at least 30 days
Pros:
Very simple and easy-to-follow pricing plan
High percentage commission rate
Cons:
Paypal-exclusive payment scheme
Lots of Twitter users, newsletters, and blogs offer similar services for free
Contenta is a job site that helps connect writing professionals with clients who seek to hire remotely. Contenta has an easy to navigate website where writers can also publish their best work for clients to see — all without the hassle of hosting fees. There's a cost to join Contenta, but with its abundant list of features, it's more than worth it.
Commission Rate: Up to $200
Cookie Life: At least 30 days
Pros:
High potential market with more freelance writers appearing
Easy to sign up
Cons:
PayPal restricted payment scheme
No free trial
They're sign up form is a Google Form
SurveyJunkie has millions of people using their affiliate program — and for a good reason. This platform pays its users to share their opinions with popular brands on any device. With an alluring way to earn money as a form of side income, many market researchers use that to their advantage to gain more information about their customer profile. For survey takers, all you have to do is build a profile before getting some tailor-made surveys to fill.
Commission Rate: $1.50 for each referral
Cookie Life: At least 30 days
Pros:
Appealing product idea for both researcher and customer
Easy to understand commission scheme
Cons:
Payment through Paypal only
No guarantee to be nominated to participate in a survey
Best Finance Affiliate Programs
Here are our top picks for the finance affiliate programs:
QuickBooks is a full-feature accounting software manager made by Intuit. It's not used for individuals to handle their personal finances. Mainly, it mainly serves accounting applications to accept business payments, manage payroll functions and pay bills.
Commission Rate: earn up to 10% percent in commissions, or $25 per paid subscription.
Cookie Life: 30 days
Pros:
Given marketing assets for you to use on your site
Plan available for self-employed, product businesses, and services
Cons:
Only available for U.S. residents
Need a website to join the program
$50 minimum payment threshold
Freshbooks is a web-based accounting SaaS platform founded by 2ndSite Inc. It's designed as a cloud accounting software for freelancers, small businesses, and service providers. With over five million customers worldwide, this simple and intuitive platform helps manage invoices and makes accounting easier and more efficient.
Commission Rate: $10 for every trial signup; $200 trial signup upgrade.
Cookie Life: 120 days
Pros:
Extended cookie life
Protection against adware, coupons, and trademark bidding affiliates
Dedicated affiliate team to answer questions
Cons:
Only in ShareASale-accepted countries
$50 in commissions minimum threshold; or 5 signups
Turbotax makes it easy to file 100% accurate federal and state income tax returns. TurboTax allows you to prepare your tax return across all your devices without the need from you to save anything on your computer. It asks you questions about your life and does the behind-the-scenes computations for you.
Commission Rate: Up to 15% once referred has paid taxes
Cookie Life: 7 days
Pros:
Setup assistance is provided at no cost
Help your readers with educational tools they'll use in life
Cons:
May already have constant tax service
January to April is busy season, but other times may wear off
Bonsai is a payment app where you can shop online and earn discounts. What sets it apart from competition is its ecological friendliness – for every 10 payments made with a bonsai, the Bonsai team plants a tree. Bonsai believes that making the biggest impact on your planet starts with just a simple habit – and that's how the app was born.
Commission Rate: Earn a $30 cash bonus when writing about Bonsai; 25% commission on paid subscriptions.
Cookie Life: 30 days
Pros:
150,000+ freelancers use Bonsai; room for more
Top performers get bonuses on top of commissions
Clear affiliate sign up form
Responsive team
Cons:
Freelancers already have subscriptions of payment sites
Not available in other language besides English
Revolut for Business was made to cut down expenses for businesses, companies, and sole traders. It has different subscription plans that help you deal with your finances. Now, it handles and converts over 30+ currencies and helps send and receive international payments.
Commission Rate: Details are private and on hold
Cookie Life: 30 days
Pros:
Europe's fastest growing fintech across four plans
Can choose which plan you want to be an affiliate of
Cons:
Monthly payments
Currently on-hold
Equifax is a credit reporting agency that analyzes user information to find your credit score. It can generate credit reports, manage freezes, manage fraud alerts, and help you reach your financial goals. It also has identity theft protection services with plans that can fit your entire family.
Commission Rate: $10-40 Cookie
Cookie Life: 30 days
Pros:
Drive traffic to site by providing industry-leading business credit report articles
Banners and creatives are given
Special commissions for top-performing affiliates are available
Cons:
Best Investing & Trading Affiliate Programs
Here are our top picks for the investing and trading affiliate programs:
eToro Partners is the highly lucrative and diverse affiliate program of the most popular social trading platform, eToro. The eToro investment network has over 5 million registered users from over 140 countries and is quickly growing. eToro allows their users to connect like never before by allowing them to communicate and post through their social trading platform, view other users trading statistics, discuss trading strategies, and automatically copy other traders with eToro's patented CopyTrader technology.
There's no wonder why eToro is the worlds leading social trading platform and the platform is gaining new users every day. eToro's extensive growth is due to not only their amazing investment and copy trading services, but the highly lucrative affiliate program, eToro Partners. eToro Partners is one of the most successful financial affiliate programs in the world with over 50,000,000 paid affiliates. With a network as vast and successful as eToro's, it's easy to convert and acquire new traders to the eToro platform.
Commission Rate: Up to $200 CPA, 25% Revenue Share
Cookie Life: 45 Days
Pros:
Promote the leading social trading platform
High conversions
Excellent reporting and tracking software
Very lucrative commission plans
Cons:
Takes some time to build up your following
Plus 500 is an international firm providing online trading services. It is an online service that allows people all over the world to trade online. It was founded in 2008. The firm has its headquarters in Israel. The platform was initially based on Windows OS but the firm has gone on to release web and Android based platform for its users.
Commission Rate: Up to $800 CPA for a trader
Cookie Life: 30 days
Pros:
Won the "Best Financial Affiliate Program" iGB Affiliate Awards 2015, 2016, 2018
Guaranteed an affiliate manager
Comes with high conversion tools
Cons:
Only can promote in financial-related pages and websites
Financial keywords competition is high — so should have strong following beforehand
Coinbase is a US-based cryptocurrency exchange that allows its users to trade with the major currencies. This includes Ethereum, Bitcoin, Dogecoin, and Cardano. It runs across multiple devices and has features that allow you to manage your portfolio with utmost security. Best of all, it has an affiliate program that earns you commissions for inviting a friend to join in through a link.
Commission Rate: 10% Commission when user buys
Cookie Life: 30 days
Pros:
Full-time affiliate manager to help you
Creative assets and banners are provided
You have deep linking permissions
Cons:
Less than 20% get accepted to the program
Recurring payment only lasts three months
Coinbase's reputation is treading downhill due to rejecting social activism
Binance is the world-leading cryptocurrency and digital goods exchange platform. It boasts the largest trade volume per day among other cryptocurrencies. Its service includes trading and purchasing cryptocurrencies, securities, futures, savings, lendings, and digital wallets. Purchasing cryptocurrencies can be facilitated with onsite P2P services and through the Binance Spot market.
Commission Rate: 20% of referral's trade fees, 40% if holding 500+ BNB, paid in real-time to Binance account.
Cookie Life: 90 days
Pros:
World's most reputable cryptocurrency exchange site
Real time transfer of referral commission on purchase
Cons:
Need community of over 500 members or social page with over 5,000 followers
Reduced its commission rate by 20% from when it first started out
Best Retail Affiliate Programs
Here are our top picks for the eCommerce marketplace affiliate programs:
There's a good chance that you've already heard of Etsy—an online marketplace for crafters, artisans, makers, and thrifters. Since 2012, there have been over 2 million active sellers on Etsy and many millions of products listed.
You may not know that Etsy also has an affiliate program that bloggers in the right niches can use to generate some extra income.
Commission Rate: Etsy isn't forthright with their commission rates on their affiliate sign-up page. Based on third-party reviews though, they're typically between 4% and 8% for qualifying sales.
Cookie Life: 30 days
Pros:
Variety of banners and ads available as well as curated page
Any sales made during the 30-day cookie period are attributed to the affiliate — not just an initial sale
Referrals work internationally
Cons:
No guarantee of approval—applicants are "evaluated based on criteria such as type of site, site quality, site content, variety of site content and items promoted, brand identity, and alignment with Etsy's values."
$5 sign up fee that is refunded after your first payment from the program
Naturally, Etsy sellers can't earn an affiliate income on their own products. However, they also can't earn an affiliate income on products similar to their own products (odd).
Low percentage of sales for their payout compared to many other affiliate programs
Who hasn't heard of Amazon? This platform is a giant in the eCommerce world, and its popularity continues to grow. So, if you ever talk about products that could potentially be for sale somewhere on Amazon, then it makes sense for you to join Amazon Associates to begin collecting (small) commissions on the products people purchase after following your Amazon affiliate links.
Commission Rate: Varies between 1.0% and 10.0% depending on the product category. You can learn more about Amazon's standard commission rates here.
Cookie Life: 24 hours (90 days if a referral adds a product to their shopping cart during a session you refer)
Pros:
Easy sign-up
Access to nearly unlimited products you can promote
Payments can be made by direct bank deposit, Amazon gift card or check
Cons:
Low commission structure that makes it challenging to earn significant payouts without sending a high volume of traffic their way
Affiliates only have a 24-hour window to earn a commission after someone clicks on their affiliate link
eBay has been around since the dawn of time. OK so that's not true, but as far as the internet goes, they've had a long run. Their listings include almost anything a buyer could ask for from long-forgotten vintage memorabilia to brand new merchandise.
With a name as well-known as eBay, a high conversion rate is guaranteed with their affiliate programs.
Commission Rate: 50-70% of eBay's revenue share. New or reactivated eBay users double the commission rate.
For example, if eBay's revenue share is $10, the affiliate will make $5-$7. If the person purchasing the item is new to eBay, the affiliate will make $10 – $14 on the sale
Cookie Life: 24 hours
Pros:
Free to use
Earn commission on any listing—including your own
Cons:
Short cookie life
Low commission rate per sale
Some of the information about the affiliate program is outdated on the site. For instance, under the FAQ's section, they list a different commission rate system than they do on their main partnering page
Blog posts and pages will have to be updated frequently for auction items listed on eBay
Walmart is the largest retail corporation in the US that operates multiple state-wide supercenters. It also offers extended eCommerce services to gain a larger share in the growing digital industry. The Walmart affiliate program helps incentivize you when someone clicks your link that redirects them to the Walmart website.
Commission Rate: 1% for many products
Cookie Life: 3 days
Pros:
Free professionally designed banners
Deep linking is a available option
Better cookie life compared to Amazon's 24-hour cookie life
Cons:
Very low commission rates for most products
Some tools inside are outdated and unintuitive
Can't earn for many products — Apple products, personal care, precious metals etc.
RedBubble is a new way for independent artists to earn money through their passion. Today, over 700,000 artists and designers use RedBubble as a platform for them to connect with millions of art-loving fans. To start, open a profile shop in a matter of minutes, find your favorite design, and a transaction between creator and fan can commence. It's that simple!
Commission Rate: Up To 10% Commission
Cookie Life: 30 days
Pros:
Multiple payment options, including Wire Transfer, ACH, and Check.
Offers educational and promotional resources for your site or social pages
Can promote to a general audience store
Cons:
Minimum threshold of $50
10% commission could be higher
What Are the Best Affiliate Networks?
Now that you know what to look for when choosing a network, here are our picks for the best affiliate networks to join this year.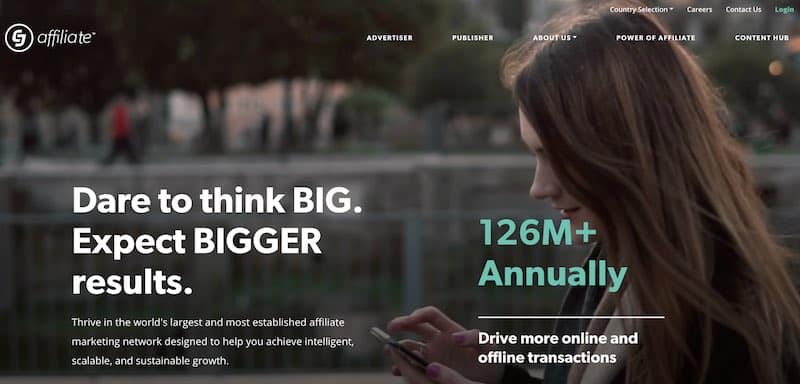 CJ by Conversant (formerly Commission Junction) is an affiliate network that has been in the industry for 20 years. They process an incredible $15 billion in annual sales through their platform, with $1.8 billion paid out annually to their affiliates.
If you're looking to partner with some of the world's biggest brands, becoming a CJ affiliate is a great choice. Brands like Overstock, Priceline, GoPro, Lowes, and Office Depot are just some of the merchants you can partner with on CJ.
On the publisher's side, they partner with huge brands like CNN, Time, Digg, and Buzzfeed. With this stiff competition, one drawback is that it can be difficult for new affiliates to get approved to work with larger merchants. You'll have to get creative with your email outreach to work with them.
However, with their free and easy set-up, excellent real-time reporting, and reliable monthly payments, CJ is a great platform to join.
Impact (formerly known as Impact Radius) was founded in 2008 by former CJ Affiliate employees and is one of the younger affiliate networks on our list.
As of 2023 the networks offers a catalogue of over 9 million products (including the likes of L'Oréal, Airbnb, Adidas and many more) that can be promoted across various chanels with just a simple link.
While the number of affiliate partners and products at your disposal might be initially overwhelming, Impact makes it easy to find suitable affiliate products by categorising merchants into key verticals and stripping down the partner application process to the very essentials.
We found Impact to be a particularly powerful affiliate network thanks its mix of a wide variety of merchants and very user friendly dashboarding capabilities that will help you understand how different affiliate programs perform not only on an aggregate but also individual and even link level.
Besides that each brand usually offers a bunch of useful resources such as banners, widgets, deep linking or time-limited coupon codes which will further help you increase your conversions. Therefore, besides CJ, Impact is definitely one of the affiliate networks you should strongly consider, no matter the niche you're focusing on.
If you're promoting software, especially in the B2B space, you'll surely love PartnerStack.
Once you get your affiliate account you can promote software products across different categories like sales, marketing, accounting, development, productivity, social media, etc.
As an affiliate of PartnerStack, we can tell that it has one of the most enjoyable interfaces that we've ever encountered with any affiliate marketplace. There is a threshold of $25.00 for you to withdraw the commissions you have earned on the platform and the money can be transferred either via PayPal or Stripe directly to your bank account.
The only downside of PartnerStack we've noticed so far is a fairly limited number of software providers on their platform but we're sure that it will grow significantly over time.
Shareasale is a massive affiliate network with over 3,900 merchants and 1 million+ affiliates. They've been in business for 19 years and are a leader in the industry. Some of their top verticals to promote include fashion, home and garden, food and drink, and B2B. But there are plenty more.
Additionally, they provide great features, including affiliate marketing classes, training webinars, merchant recommendations, and marketing tools to help you grow your revenue.
Their platform is also reliable on the technology front. Specifically, the Shareasale platform provides easy access to affiliate links, reporting tools, and pride themselves on transparency, speed, efficiency, and accuracy.
If you're just starting and want to get your toes wet in affiliate marketing and promote primarily consumer brands, we recommend you join Shareasale as an affiliate first.
And if you're a merchant looking for affiliates to promote your products, you can sign up as a merchant.
Some affiliates want to just monetize content with little effort and that's where Skimlinks comes in.
Skimlinks will insert affiliate links automatically on your blog posts either via a WordPress plugin or with an additional script placed in Google Tag Manager.
If you're looking for an effortless way to monetize with affiliate links, Skimlinks is the way to do it. For content that's created without your involvement (such as a forum), this might be a truly interesting option.
It's also worth mentioning that you can also insert links manually if you wish so. Skimlinks currently works with more than 24,000 merchants in a wide range of niche markets. We recommend you sign up for this one if you've already signed up for the major networks mentioned above.
Some other notable mentions are Awin, Impact, Avangate, Viglink, Pepperjam, and Clickbank. If you're in the B2C consumer product niche, Clickbank provides a marketplace to promote products from a wide range of industries like food, health, fitness, nutrition, home and garden, and more.
Summary: Best Affiliate Programs
Did we miss any of the best affiliate programs out there? If you're a member of another great affiliate program you'd like to share with us, please mention it in the comments below!
Additional Resources: